The JICA Expert team, in collaboration with the Pollution Control Department (PCD), organized a risk communication training course on PRTR data for facilitators, open for 2 days – with Class 1 on 21st June 2012 and Class 2 on 22nd June 2012. Mr. Rangsan Pinthong, Director of the Waste and Hazardous Substance Management Bureau, presided over the training with a number of participants from JICA-PRTR Project counterpart organizations – PCD, Department of Industrial Works (DIW), and the Industrial Estate Authority of Thailand (IEAT). The training was aimed at government officers, enabling them to have a comprehensive understanding of the PRTR system and to strengthen risk communication skills as facilitators.
The half-day training course was divided into two sessions – the lecture and the group practice. Lecture topics included an overview of the PRTR system, and an environmental risk and exposure assessment. Before starting the practice session, the JICA Expert delivered a presentation on methods and techniques for promoting risk communications, giving an example of risk communications practice in Japan.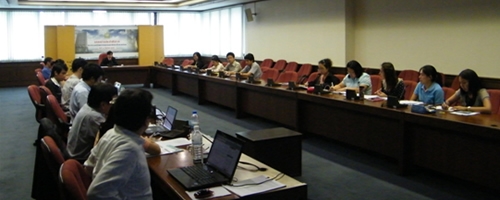 Mr. Rangsan Pinthong presided over the opening ceremony of the Risk Communication Training Course on PRTR Data for Facilitators, held from June 21st to June 22nd, 2012, at meeting room 301, PCD.