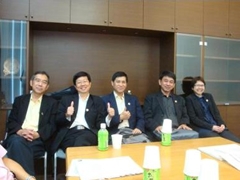 Photo from evaluation meeting at JICA HQs
As part of the JICA-PRTR project, a study tour to Japan was organized during July 17- 26, 2012. 18 government officials - 7 from the Pollution Control Department, 7 from the Department of Industrial Works, and 4 from the Industrial Estate Authority of Thailand - participated in the tour.
The objective of the tour was to enable the participants to understand the PRTR system in Japan and apply the experience gained to their work in Thailand. Sites for the visit were carefully arranged and participants were guided by the JICA study tour coordinator, Ms. Miho SATO. Places visited included Yokohama National University, National Institute of Environmental Studies, Saitama Prefecture Government, Ministry of Economy, Trade and Industry, as well as Ministry of The Environment. At the Ministry of Economy, Trade and Industry, the Director of Chemical Management Policy Division, Mr. Mitsuaki KOMOTO, gave a welcome speech while the Deputy Director General of Department of Industrial Works, Mr. Chumpon Cheevaprapanunt, replied on behalf of the Thai mission team. At the Ministry of the Environment, the Deputy Director General, Mr. Shigemoto KAJIHARA, delivered a welcome speech and the Waste and Hazardous Substance Management Bureau Director, Pollution Control Department, Mr. Rangsan Pinthong replied from Thai side. In addition to the visit, various lectures were provided at JICA Tokyo by the following organizations; National Institute of Technology and Evaluation, Paint Manufacture's Association, Research Institute of Environmental Strategy, and Environmental Information Communications.
At the end of the study tour, an evaluation meeting was held at JICA Headquarters. Each group selected a nominee to make a group presentation on their finding from each visit and lecture. Mr. Hideo Noda, Director of the Environment Management Division of JICA, handed certificates of training to each participant.
The next study tour, focusing on implementation issues of PRTR, is planned to be organized in 2013.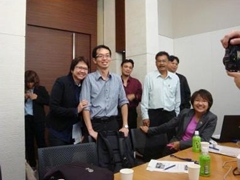 Photo from evaluation meeting at JICA HQs
Photo from evaluation meeting at JICA HQs