JICA Experts in cooperation with the Department of Industrial Works (DIW) organized the 1st task force meeting on the development of the release estimation manual for the automotive and auto-parts industry on July 27th, 2012. Mr. Mongkol Pruekwattana, Director of Water Technology and Industrial Pollution Management Bureau, presided over the meeting with a full house of participants from the Federation of Thai Industry (FTI), the Thai Automotive Industry Association (TAIA), the Thai Auto Parts Manufacturing Association (TAPMA), the academic sector, as well as leading automobile and auto-parts manufacturers in Thailand.
To provide background knowledge, Mr. Decha Pimpisut, Director of Air Pollution Division, delivered a presentation on the overview of JICA-PRTR Project, basic elements of Thai PRTR system, the target chemical substances list, and the definition of emission sources. Furthermore, the content outline of the release estimation manual for Thai automotive/auto part industry was explained to the floor, comparing with the Japanese release estimation manuals, which were also distributed to the members for feedback. The automotive/auto-part task force members promised the cooperation in data collection on automobile/auto-part manufacturing in Thailand, on which the release estimation manual will be developed.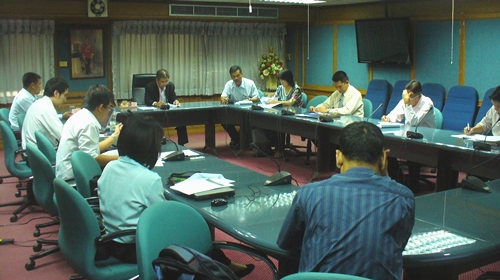 Task force members explained the work plan and manual preparation procedure during the 1st Task force Meeting on Developing the Release Estimation Manual for the Automotive/Auto-Parts Industry, on July 27th, 2012, at DIW.