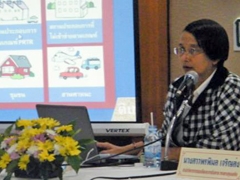 Ms. Pornpimon Chareonsong, Director of Hazardous Waste Division, presided over the workshop and gave a presentation on Introduction to JICA-PRTR.
On September 7, 2012, at Star Hotel, Rayong, a PRTR workshop for local government and municipal officers was held, inviting a representative from each municipality in Rayong province and related governmental organizations. Ms. Pornpimon Chareonsong, Director of Hazardous Substances Division, the Pollution Control Department (PCD) presided over the workshop.
This activity with the local authorities aimed to create a mutual understanding on the PRTR system and to raise awareness on the forthcoming PRTR pilot implementation in 2013.
To have a clear idea about the JICA-PRTR project, a JICA expert together with Ms. Pornpimon Chareonsong and Mr. Aram Bhandhuwan from PCD, and Dr. Sarawut Thepanondh from Mahidol University, delivered a complete lecture on the project. Presented topics included 1) Introduction to PRTR, 2) Target Chemical Substances List, 3) Point Source Definition, 4) Non-Point Source Definition, 5) Pilot Implementation Plan, and 6) Chemical Risk Communication. The role of local government and municipalities was emphasized, especially as the PRTR focal point of each district or sub-district in Rayong. After an active discussion on the issues, participants agreed on the principle and promised further cooperation for the JICA-PRTR project.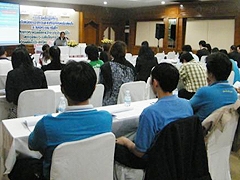 Participants from various local government organizations and municipalities actively attended the workshop.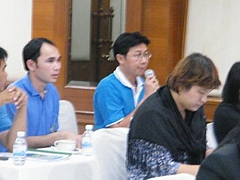 Representatives from Map Ta Phut Municipality gave a comment on the pilot implementation.