Representatives from active environmental NGOs again gathered to exchange their ideas in the 3rd NGOs Dialogue Meeting held on September 26th, 2012, at the Pollution Control Department. Director of Waste and Hazardous Substances Management Bureau, Mr. Rangsan Pinthong, chaired the meeting, accompanied by Director of Hazardous Substances Division, Ms. Pornpimon Chareonsong, and Mr. Aram Bhandhuwanna, representing the JICA-PRTR team. Representing NGOs, delegates from Greenpeace Southeast Asia, Ecological Alert and Recovery -- Thailand (EARTH), Environmental Litigation and Advocacy for the Wants (EnLAW), and Thailand Environment Institute Foundation (TEI) took part in the meeting.
JICA Expert Mr. Munehiro Fukuda reported on the progress of the project made in the past year (March 2011 - March 2012), giving a brief summary of each output including the PRTR basic design elements. The PRTR pilot implementation plan in 2013 and other major events in the next 6 months were explained. After the presentation, participants actively discussed and exchanged their ideas on the issues, which mostly concerned the PRTR basic design.
The dialogue with NGOs has been continuously encouraged to receive comments and ideas on the Thai PRTR system since its beginning. The next NGOs meeting is planned to be held in January 2013.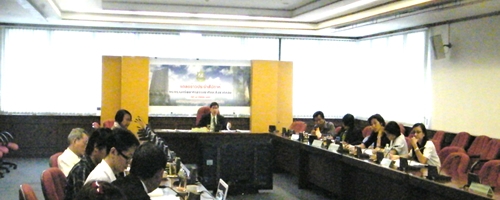 Representatives from various NGOs, on the right-hand side, listened to the progress of the project as participating in the 3rd NGOs dialogue meeting held on September 26th, 2012.