With collaboration from Thai Paint Manufacturing Association (TPMA), JICA Experts and a project counterpart from the Pollution Control Department (PCD) were given a chance to introduce the JICA-PRTR project in the TMPA's monthly meeting held on October 11, 2012, attended by representatives from leading paint manufacturers.
To give some the background, overview of the project and the PRTR pilot implementation were explained, focusing on the area of non-point source related to the construction and paint industries. The lists of non-point source data required for release estimation from the paint industry were presented and requested for availability of such data. TPMA members agreed in principle and ensured their cooperation for the non-point source data collection as requested.
Construction has been classified as one of the non-point sources under Thai PRTR system, in which the release mainly comes from painting activity. In order to do the release estimation from painting activity, various non-point source data will be required, specifically those representing the paint industry in Thailand.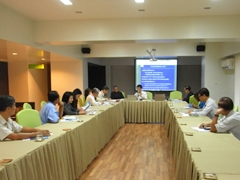 PRTR team delivered a brief presentation on the overview of PRTR project at the TPMA's monthly meeting, on October 11, 2012.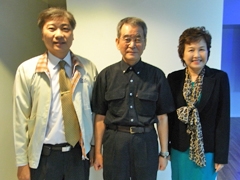 President of TPMA Mr. Suchart Teinpothong, JICA Expert, and Ms. Petcharat Eksangkul, Vice-President (from left to right).