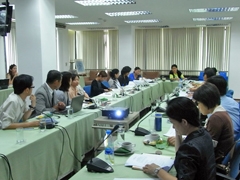 PRTR NGO Dialogue meeting was hosted by Thailand Environment Institute on February 8, 2013.
The 4th NGOs Dialogue Meeting was held on February 8, 2013 at the Thailand Environment Institute (TEI). Dr. Qwanruedee Chotichanathawewong, President of TEI, chaired the meeting, accompanied by the Pollution Control Department (PCD) and a JICA expert team. NGO delegates from Greenpeace Southeast Asia, Ecological Alert and Recovery Thailand (EARTH), and the Environmental Foundation from Chachoengsao province, actively participated in the meeting.
For the first time this NGO dialogue was hosted not by the PCD or a JICA expert team but by TEI on behalf of the NGO side, as a trial to make the relationship between the project and NGOs more interactive and transparent. In the meeting, a brief progress summary of the PRTR project was presented by JICA Experts Mr. Munehiro Fukuda and Mr. Yoshiharu Shirene, followed by an active discussion session. The NGO side showed their interest in critical issues such as finalization of target substance and point source definition for nationwide design. The PCD and the JICA expert team explained that by the end of the pilot implementation, comprehensive feedback will be obtained from all stakeholders, and this will be the basis to modify and revise the current design in the pilot implementation. Another intensive discussion was about mobile source estimation. To ensure transparency and strengthen the involvement of NGOs, the JICA expert team also proposed a study visit by NGOs to the PCD's Automobile Emission Laboratory to observe emission factor experiments.
The next NGO meeting is planned for September 2013.