The Federation of Thai Industries (FTI) and UBM Asia (Thailand) jointly organized a seminar titled "Environment and Energy Conservation for Industrial Factory" at Central Place Hotel, Samutsakorn province, on February 21, 2013. There were over 200 participants from industrial factories around Samutsakorn province. In the seminar, Dr. Jariya Sukhapan, PRTR project counterpart from the Industrial Estate Authority of Thailand (IEAT), was invited to deliver a lecture on "The Overview of PRTR System", introducing the PRTR project and its progress to those outside the pilot implementation area of Rayong province. The session successfully enabled the participants to develop an awareness of the PRTR system, which will be expanded throughout Thailand in the future.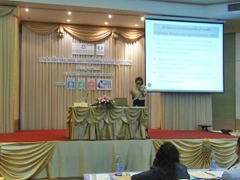 Dr. Jariya Sukhapan from IEAT introduced the PRTR system to the participants.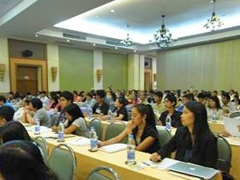 Over 200 participants from the industrial sector actively participated in the seminar, providing a good opportunity to raise the awareness of the PRTR system.