The Department of Industrial Works (DIW) and SECOT Co., Ltd. jointly organized a seminar titled "Study and Database Development of PRTR" on February 27, 2013, at Kameo House Hotel, Rayong province. There were around 50 participants from small-size industrial factories and municipal offices around Rayong province.
The seminar started with Dr. Decha Pimpisut, Industrial Environment Research and Development Bureau, DIW, delivering a lecture on "PRTR system principal and PRTR target chemicals list" to introduce an overview of the PRTR system in Thailand. An expert from SECOT continued the session with a presentation on "PRTR system for small size industries", explaining how to estimate PRTR data for small industrial business and showing the plan of PRTR study and database development.
There was also a lecture on "PRTR point source definition and PRTR pilot implementation plan" given by Mr. Parinya Maneewong from DIW, followed by a discussion session, including Q&A, by Dr. Sirakarn Leungsakul from DIW and Mr. Munehiro Fukuda, a JICA expert of the PRTR project.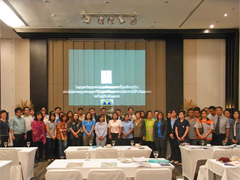 Group picture of the organizers and the participants in the seminar by DIW and SECOT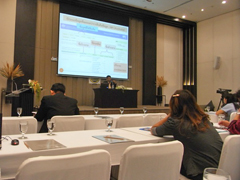 Dr. Decha, DIW, presented an overview of the PRTR system.