JICA PRTR Expert, Mr. Munehiro Fukuda, gave a presentation to introduce the PRTR project and its pilot implementation in Rayong province in an international conference, in order to promote the understanding of the PRTR system among various groups of stakeholders.
The one-day international conference on "Risk Communication and the Possibility Towards Constructive Solutions for a Healthy Future of Map Ta Phut" was organized by the Open Research Center for Minamata Studies, Kumamoto Gakuen University (ORCM), in collaboration with the National Health Commission Office, Ecological Alert and Recovery Thailand (EARTH), Environmental Litigation and Advocacy for the Wants (EnLAW), and Chulalongkorn University at Maha Chakrit Sirindhorn Building, Chulalongkorn University (Bangkok Thailand) on March 1, 2013.
Serving as a platform for exchanging opinions and experience among all relevant sectors, including affected communities and concerned parties in Japan, Thailand and the Mekong Region, the conference brought together over 200 participants from Thai government agencies, international organizations, provincial offices, municipal offices, communities and NGOs. It aimed at seeking the constructive sustainable solutions on the basis of participatory policy processes according to principles of risk communication.
In the conference, Mr. Munehiro Fukuda, together with Ms. Nalinee Kanchanamai, a project counterpart member from the Industrial Estate Authority of Thailand (IEAT), were given an opportunity to introduce the JICA PRTR project and its progress, with emphasis on importance of public participation, especially risk communication. Many participants expressed interest in the PRTR system as a tool to improve the current environmental situation and to promote dialogue and understanding among stakeholders.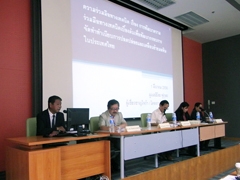 Mr. Munehiro Fukuda, JICA expert, and Ms. Nalinee Kanchanamai, IEAT, presented the PRTR system in the session on "Risk Communication, Access to Information and Approaches to Address Pollution in Japan and Thailand"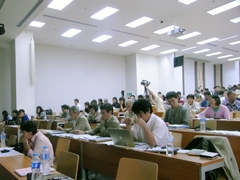 There were over 200 participants from Japan, Thailand and the Mekong Region actively participating in the international conference.