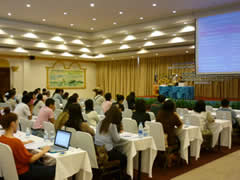 Lecture session, given by Mr. Aram Bhandhuwan from PCD, on March 19th, 2013, at Star Hotel, Rayong
The last PRTR awareness raising workshop for the initial step of pilot implementation was organized on March 19th, 2013, at Star Hotel, Rayong, attended by representatives from local government, municipalities, hospitals, academic sector and target factories. The workshop was led by Ms. Teeraporn Wiriwuttikorn, Director of Hazardous Substances Division, Pollution Control Department (PCD), with a total of 141 participants.
This activity aimed to create a mutual understanding of the PRTR system, to raise awareness on the forthcoming PRTR pilot implementation in Rayong, and to request cooperation in the implementation of the pilot project.
To make sure the participants have a clear idea about the project, Mr. Aram Bhandhuwan from PCD, together with Ms. Sirakarn Leungsakul from the Department of Industrial Works (DIW) and Ms. Jariya Sukhapan from the Industrial Estate Authority of Thailand (IEAT), delivered a complete lecture on the JICA-PRTR project. Presented topics included 1) Introduction to PRTR system, 2) Target Chemical Substances under PRTR, 3) Point Source Definition, 4) Pilot Implementation Plan, and 5) overview of emission estimation. The response from each sector was positive and led to promise for further cooperation for the JICA-PRTR project.
As the second step of pilot implementation, the training of estimation and reporting method for point source will be organized during July-August 2013.