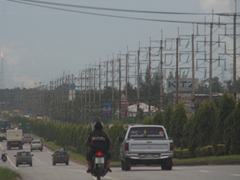 A JICA Expert Team executed a contract to outsource a survey for the estimation of traffic data in Rayong Province with U.D. Asia Co., Ltd. on 12 November 2013.
Mobile sources such as motor vehicles are representative of non-point sources (NPS), considering their contribution rate to total NPS emissions, and automobiles and motorcycles are target sources in the PRTR pilot implementation. In estimating emissions from mobile sources, 2 types of emissions, "hot start" and "increased emission at a cold start", are considered in this pilot implementation.
Emissions at a hot start, in general, are estimated by multiplying "traffic data" and "emission factor" together. Emission factors have been and will be obtained by the Automotive Emission Laboratory (AEL) in PCD. However, only some traffic data necessary to calculate emissions from mobile sources can be obtained from statistics issued by the Government.
On the other hand, the increased emission at a cold start is generally estimated by multiplying "the number of start-up times" by "emission factor" where emission factors are adjusted by the soak time. Since useful data for the number of start-up times and the soak times have not existed at all, many kinds of traffic data need to be collected and estimated by this survey.