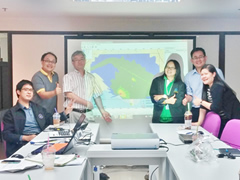 A series of workshops and a seminar on air dispersion modeling using PRTR data were held during September and October 2014. The main purpose was to develop the staff's knowledge and experience on conducting air dispersion simulation in Thailand using PRTR data.
A total of 4 modeling workshops were supported by JICA expert Mr. Akira NAKAMURA for 5 participants from PCD, DIW and IEAT, who eagerly attended and were able to adopt METI-LIS, a Japanese air dispersion model, to Thai conditions.
In addition, a full-day modeling seminar was held on 13th October in IEAT Map Ta Phut office for 9 participants including 3 counterparts from local IEAT offices.