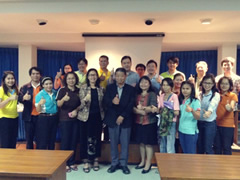 A follow-up training for risk communication facilitators was organized at Map Ta Phut Occupational Health and Environment Development Center (MOHEDC), under the Department of Disease Control, Ministry of Public Health, during January 26- 29, 2015. Approximately 20 persons attended the training, including two officers from Map Ta Phu municipality and provincial public health office.
Various lectures were delivered by leading experts in the field, namely, Dr. Sarawut Thepanondh from Mahidol university, Dr. Nalinee Sripaung from MOHEDC, and Dr. Chayawee Wangcharoenrung from PCD.
Highlight of the workshop was in the afternoon of the last day (January 29th), where a role play game was practiced by the participants in front of volunteers from the community who played roles as members of the general public. The game aimed to explain the PRTR data set and guide discussion in a constructive direction to extract useful information from the data and consider positive actions.