Project Name
Nursing Education Improvement Project
Country
Uzbekistan
Term of Cooperation
July 2004 - June 2009
Project Background
In the Republic of Uzbekistan, the main problem of nursing is misinterpretation of basic idea of nursing care and the role of nurses. Generally, nurses serve only as doctors' assistant and fulfill only the recommended duties. Nurses do not have independence, do not have their own patient history, and do not keep a record book. In short, nurses do not carry out all of the activities that they are authorized to.
By Decree of the President of the Republic of Uzbekistan, the special faculties for the preparation of nurses with a higher education were organized on 1999 in all the higher medical institutions of Uzbekistan. The Ministry of Health of the Republic of Uzbekistan has organized several nursing seminars with the participation of JICA and the association of nurses in Uzbekistan.
The Ministry of Health is planning to take further steps to in improve nursing education in Uzbekistan. The three stages of this improvement reveal the strategy of the Ministry. The first stage include creating a nursing education center in Tashkent and organizing standard training courses for the nursing teachers in medical colleges (schools) and institutions (to train the trainers). The second stage creates courses on two directions, for the teachers of nursing in medical institutions. The third and final stage concerns the creation of a center for retraining of nursing teachers in five regions, and and arrangement of courses by the teachers who successfully complete stage 1 of the training.
The Republic of Uzbekistan requested technical cooperation from the Government of Japan to implement these plans and launch implementation of stage three expansion to the regions.
JICA dispatched the First Preparatory Study Team to Uzbekistan from January 4 to January 21, 2004 to collect nursing education information. The Second Preparatory Study Team was dispatched from March 17 to March 31, 2004 to draw up the design of the Nursing Education Improvement Project. JICA and the Uzbekistan side discussed the outline of the project plans and agreed on matters as signed in the Minutes of the Meeting.
Purpose
Project Purpose : An educational model based on "client-oriented nursing" is established.
Overall Goal : Nursing education based on "client-oriented nursing" is innovated in 54 medical colleges throughout the country.
Outputs
| | |
| --- | --- |
| 1 | The concept of "client-oriented nursing" is introduced into in-school education at the FRMC. |
| 1-1 | Draft curriculum*1 for the FRMC is prepared based on "client-oriented nursing". |
| 1-2 | Teaching materials are prepared based on "client-oriented nursing". |
| 1-3 | Teaching method of "client-oriented nursing" is understood by the nursing educators. |
| 2 | Client-oriented nursing practices are introduced in a model hospital. |
| 3 | Standard of nursing education (curriculum, teaching material and quality of teachers) is proposed. |
Project Activities
| | |
| --- | --- |
| 0 | To establish a Project Implementation Office: Nursing Education Center (NEC) in the FRMC. |
| 1-1-1 | To establish a Curriculum Committee consisting of the MOH, Ministry of Higher and Secondary Specialized Education, and educators from institutes of medicine and medical colleges. |
| 1-1-2 | To collect information about curriculum for middle-level education. |
| 1-1-3 | To prepare curriculum ideas for middle-level education based on "client-oriented nursing". |
| 1-2-1 | To establish working groups consisting of educators from institutes of medicine and medical colleges for preparing the syllabus and teaching materials. |
| 1-2-2 | To collect information about textbooks for medical colleges and institutes of medicine. |
| 1-2-3 | To confirm the needs of health care facilities and patients for improving nursing care. |
| 1-2-4 | To prepare the syllabus and teaching materials (Fundamental Nursing, Maternal Nursing and Child Nursing, Adult Nursing and Gerontology Nursing, Community Nursing and Nursing Management) |
| 1-2-5 | To monitor the utilization conditions of equipment for nursing education procured by the Japanese Grant Aid Project. |
| 1-2-6 | To prepare drafts of laboratory manuals for the equipment. |
| 1-3-1 | To confirm the technical level and needs of nursing educators. |
| 1-3-2 | To hold a seminar on the concept of "client-oriented nursing". |
| 1-3-3 | To draw up the program for introducing client-oriented nursing education using the prepared curriculum and teaching materials. |
| 1-3-4 | To train educators in the FRMC for implementing the introductory program for client-oriented nursing education. |
| 1-3-5 | To implement trial sessions for introducing client-oriented nursing education. |
| 1-3-6 | To monitor and evaluate the trial sessions. |
| 1-3-7 | To train nursing educators from 54 medical colleges and 6 institutes of medicine for introducing client-oriented nursing education. |
| 2-1 | To establish a clinical practice department in RCEM. |
| 2-2 | To collect information about clinical practice in RCEM. |
| 2-3 | To confirm problems and needs of cl |
Input Summary by Japanese Side
Personal

Long-term experts
Chief Adviser
Nurse Educators
Coordinator Short-term experts
Fundamental Nursing
Maternal Nursing and Child Nursing
Adult Nursing and Gerontology Nursing
Community Nursing
Nursing Management
Training Coordinator

Facilities and equipment

Necessary machinery, equipment and other materials for implementation of the Project.

Training in Japan
Activities in 2006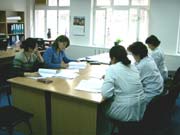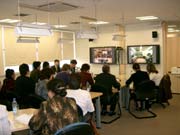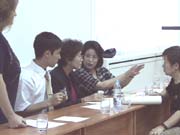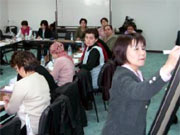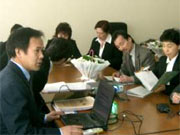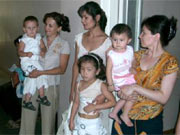 Activities in 2005