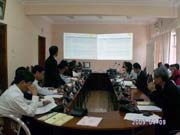 Members of the committee exchanging his views with the participants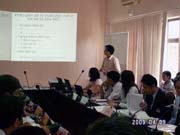 Mr.Son(C/P) explaining on technical Evaluation sheet
The 3rdJCC meeting was held on April 10, 2009 with the attendance of official Vietnamese and Japanese members concerning the Project.
From Japanese side, besides Project's Japanese members, we welcomed the attendance of MrTsunoMotonori, Resident Representative of JICA Vietnam, and some Japanese experts from other projects as observers.
From Vietnamese Government, high-ranked officers came to attend the meeting, including MrsHa ThiThanhVan, Chief officer of International Cooperation Department-MARD, Dr Hoang Kim Giao, director of Department of Livestock Production –MARD (Chairman of the meeting), and MrPhungQuocQuang, Vice director of National Agriculture Extension Center-MARD.
Representatives from 2 target areas and cooperation areas all came to attend the meeting as observers.
From NIAH and Bavicenter, Dr. Hoang Van Tieu, Dr. Vu Chi Cuong, MrNguyen HuuLuong, MrTang XuanLuucame to attend the meeting as Project's members. All Project's counterparts also joined the meeting.
In the meeting, revised draft of the Project Design Matrix, Plan of Operation were presented to the JCC. The cooperation scope in the Cooperation Area (Hung Yen province) was reviewed. The progress covering the period from April 2008 to March 2009 was also presented to the JCC. During discussion, all members talked about the content of PDM, PO, APO, the progress and major issues aroused during the period. Finally, the JCC approved revised PDM, PO and APO for 2009, reviewed the cooperation area and also confirmed the progress. Also on this occasion, Dr. Saito Norio, Chief Advisor of the Project, announced the end of his term and introduced his successor, Dr. Saito Satoshi, as the new Chief Advisor of the Project.