Zambia's health challenges are not limited to infectious diseases, such as HIV/AIDS and tuberculosis. Non-Communicable Diseases (NCDs), such as hypertension, heart disease, diabetes and others, due to changes in lifestyle including diet, has become critical health agenda. Heart disease, cancer, diabetes and endocrine diseases that are among the top ten causes of death in Zambia[1] would require control measures.
In Zambia, a majority of health centres that deliver basic health services have weak capacity to provide diagnostic services and treatment for hypertension and diabetes. Community awareness is insufficient. This is partly because of lack of diagnostic equipment and reagents, unstable supply of medicine, and inadequate knowledge and awareness among health providers. In 2017, the first nationwide survey of NCDs was conducted in Zambia. People have paid increasing attention to hypertension and diabetes as chronic diseases, hence future measures are being underway.
Among NCDs, the Project has focused on hypertension and diabetes, providing support for the implementation of training for health staff, who conduct NCD outreach activities. The Project has provided BP machines, glucometers and glucose sticks to health centres in the target Districts. Health staff travel to the villages with them and check for hypertension and diabetes. They also do the screening test (simple test methods to find suspected patients of specific diseases) and promote early diagnosis and early treatment of suspected patients.
Mr Andrew Chibangla, who works in the Chongwe District Health Office, is the person in charge of the NCD outreach activities. NCDs are diseases that can be prevented by removing risk factors. However, many community people do not know the dangers of NCDs. A comprehensive approach would be required for the District Health Office to implement health education including nutrition since childhood, regular health check-ups, and treatment services. "Our NCD outreach activity has just begun, but it will lead to early diagnosis and treatment of suspected patients," he says. Mr Chibangla himself also started working out with his colleagues on Friday evenings to prevent NCDs. "First of all, I want to practice and change my lifestyle habits and spread them," he concluded.
The Mwalumina Health Centre is located 50 minutes by car on rough roads from the centre of Chongwe District. Mr Mufungwe Macknell works as a Senior Clinical Care Officer there. He goes to Chikoroma Village that is about 20 minutes away by motorcycle once a month and conduct NCD outreach activities. NCD outreach activities are carried out together with other health services, such as vaccination for under five children, antenatal care, and distribution of contraceptives. He checks blood pressure and blood sugar for those who have symptoms. "This village is far from my health centre. People are unlikely to come for diseases that are difficult to recognise, such as NCDs. It is important for health staff to go to the village for regular examinations and treatment," he says.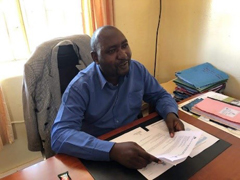 Mr Andrew Chibangla,
Chongwe District Health Office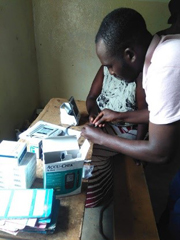 Mr Mufungwe Macknell,
Senior Clinical Care Officer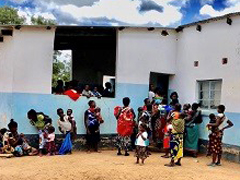 Mwalumina Health Centre,
Chongwe District