Japan International Cooperation Agency (JICA) celebrates the 40th anniversary of the dispatching of Japan Overseas Cooperation Volunteers (JOCV) to the Solomon Islands this year. As part of celebration, some stories of past JOCVs will be shared in this paper. The fourth author is Mr. Hisao Sekine who has worked at the Solomon Islands National Museum from 1987 to 1989 as JOCV.
* The public event for celebrating 40th anniversary of JOCV in the Solomon Islands will be conducted on 20th July at the National Art Gallery. The detailed information will be announced.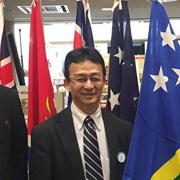 Author Profile No.4
Hisao Sekine
Hisao has worked at the Solomon Islands National Museum as a JOCV (archaeology) from 1987 to 1989. After returning to Japan, he went to a graduate school in Japan and majored in development anthropology and currently teaching anthropology at University of Tsukuba and researching cultural aspects on development and modernization in Pacific island countries. Married in 1993 with a past JOCV who used work at Kilu'ufi hospital in Malaita, and had three daughters.
Title
"Meeting a Project in the Museum"
Body
From 1987 to 1989 I worked as a museum conservator at the Solomon Islands National Museum in Honiara. I carried out daily duties with other staffs such as the preservation and management of museum collections and photographic materials and the maintenance and management of the exhibition rooms. However, even more so than the aforementioned tasks, the center of my work was a project to preserve and pass on traditional culture, which was a role that was not scheduled before being appointed for the job. It was the Solomon Islands Cultural Documentation project which was commonly called the MABO Project, and was a four-way collaboration between the Museum (M), Archives (A) , SIBC (B), and Osaka University Department of Musicology (O), with the objective to not only record "kastom" such as traditional dance, songs, skills, and practices communicated in various parts of Solomon, but also to document every single piece of material in as much detail as possible. The collected materials were stored in the archives and museum in Honiara and were put on display in the exhibition rooms of the museum where acceptable, or used for education and awareness of traditional culture as a radio program produced by SIBC. The project faced various problems when starting work to collect materials in villages, and we could not really get started with field research. However, I was able to work in three villages of the Russell Islands and Malaita Island during my volunteer days as a project member, and ten villages or more in participating in the project as a graduate student following my contract term with JOCV as a project member. We truly faced many problems in the implementation of this project, such as various trouble during negotiations with local communities on the handling of collected materials, the formation of the research team and various procedures, preparation work, and also field research, as well as work to edit and organize the materials post-collection. Each and every bit of effort made with the Solomon Islander staff to solve these problems was an unforgettable event in my time as a project member. These experiences also gave me the opportunity to learn in depth and consider carefully about such things as the Solomon Islands, Solomon Islanders, research ethics, and the meaning of cooperative volunteer activities. The most valuable asset is having experienced the culture of life in the villages of Solomon through the MABO project, and it is no exaggeration to say that it dictated my path after that.
Currently, I am carrying out applied anthropological researches on modernization and development of countries in the Pacific Islands, with a focus mainly on the Solomon Islands. After finishing my term as a JOCV volunteer in 1989, I went on to graduate school of an university to major in development anthropology, and have visited the Solomon Islands several times to conduct field researches. The villages I have visited are Shirovanga and Sasamunga of Choiseul, Kia, Baolo, Suavanao, Kolopakisa, Sepi, and Talise of Isabel, and Matikuri near Vangunu Island, and currently Fiu of Malaita.
Through this fieldwork and exchanges with the Solomon Islanders, I came to think that one should imagine a form of growth that should aim for modernity (regional modernity) that strongly reflects the cultural individuality of the country and region. It is not necessary or necessarily possible for all countries and regions to target the same social status as Western society. Solomon should have its own vision of modernization and development to achieve this. For example, this vision might be modernity on the premise of a subsistence economy and sustaining a strong, mutually supportive relationship with people who have strong ties with the region or are blood relations. If Solomon Islanders want such modernity and think it will be beneficial for the future of their children, then I think I want to be of much help as possible to the people of Solomon.