Ministry of Infrastructure Development (MID) held the first public consultation for the Greater Honiara Transport Master Plan Study (GHTMPS), supported by Japan International Cooperation Agency (JICA), at the Solomon Kitano Mendana Hotel on 27 January 2020. The Public Consultation shares the study contents with stakeholders and conduct preliminary scoping. More than 20 participants from various stakeholders attended, including representatives from the Prime Minister's Office and Cabinet (OPMC), Honiara City Council (HCC), Solomon Islands National University (SINU), Asian Development Bank (ADB), and the Embassy of Japan (EoJ).
Mr. Jimmy Nuake, Undersecretary Technical of MID, welcomed the participants and encouraged them to raise their ideas and concerns regarding the study. MID and the JICA Study Team then presented the outline and progress of the study, the policies of the transport master plan, and the environmental and social considerations arising from the proposed projects. Some proposed projects under the transport master plan were introduced, such as a new east-west corridor road running through the highlands of Honiara, which would serve as an alternative to Kukum Highway and Mendana Avenue to address traffic congestion and improve disaster resilience. Improvements to the public transport system, such as constructing new bus terminals, were also proposed.
Participants shared their feedback on the proposed projects during the discussion session and responded to a questionnaire survey on the likely environmental and social impacts. The JICA Study Team will take these opinions into consideration in formulating the transport master plan.
GHTMPS aims to create a transport master plan for the year 2036 and identify priority projects to realize an optimized transport system for the Greater Honiara Area. Another public consultation meeting will be held in May to compare alternatives and collect opinions from the stakeholders before finalizing the transport master plan in August.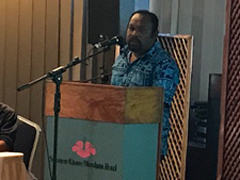 MID welcomes the participants to the GHTMPS public consultation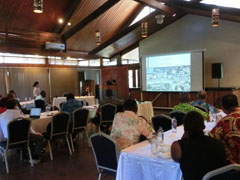 Various stakeholders participate in the GHTMPS public consultation