JICA has conducted two volunteer programs in Sri Lanka: The Japan Overseas Cooperation Volunteers (JOCV) Program, and the Senior Volunteers (SV) Program. Both these programs are for Japanese nationals who wish to share their knowledge, skills, and expertise for the benefit of people in developing countries.
The JOCV Program commenced in Sri Lanka following the exchange of notes between the Government of Japan and Sri Lanka on 15th May 1980. Subsequently, the SV Program commenced dispatching volunteers to the country in April 2002. Since 1981 over 1,100 JICA volunteers have been dispatched to work in Sri Lanka, and these volunteers have served in more than 100 different fields of service. Particularly in recent years, many JOCV involved in education (physical education, music, early childhood, art, etc.), elderly (care and health promotion), environment, community development, and sports have contributed to the social and economic development of Sri Lanka under the goal of "Promoting High Quality, Inclusive Growth".
Volunteers conduct their activities in the local languages (Sinhala or Tamil), depending on the region they work in. Although a large majority of JICA volunteers primarily worked in Sinhala speaking areas, with the dawn of peace in the country JICA commenced assigning its volunteers to the Northern and Eastern Provinces as well. This commenced in 2012, and it was the first time in 25 years that JICA volunteers were sent to former war-torn regions.
The year 2021 marks the 40th anniversary of JOCV activity in Sri Lanka and the year 2022 marks the 70th anniversary of the establishment of diplomatic relations between Japan and Sri Lanka.
The JOCV program is expected to work actively for the further goodwill and development of the two countries.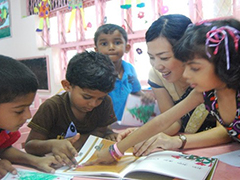 JOCV preschool teacher in Colombo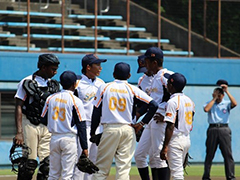 JOCV Baseball coach in Kandy
JOCV News
Articles in 2021
November
August
April