TabiagaIni,
Program Officer JICA Vanuatu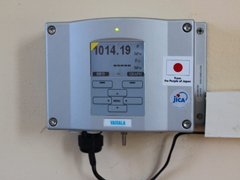 25/03/2019_ Installed PTB330 at Aneityum Weather Station
Japan International Cooperation Agency (JICA) has continuously providing Technical Cooperation to Vanuatu Government as in Capacity building program known as Knowledge Co-Creation Program (KCCP) where government officers travel to Japan and learn from Japan experiences through lectures and site visit. As part of training participants are also have the privilege to formulate action plan or project proposals, be selected to receive support from JICA as a Training Follow-up scheme.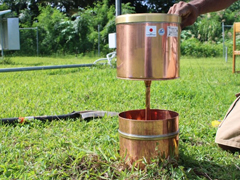 25/03/2019_VMGD Officer (Mr. Jeremy BANI) installing newly JICA procured rain cage at Aneityum weather station.
In year 2015 that an officer from Vanuatu Meteorology and Geo-hazard Department (VMGD) was in Japan attending one of JICA's KCCP courses, that Vanuatu experience a devastating Category 5 cyclone (Cyclone PAM) on March, which have cost the country on recovery to this day. VMGD equipment's at Seven (7) Weather stations (Sola, Saratamata, Santo Pekoa, Lamap, Bauerfield Efate, Whitegrass Tanna, Aneityum) were damage during this cyclone and was in great need for equipment replacement. VMGD then utilized the training follow-up scheme program and requested JICA to assist procurement of damaged equipment.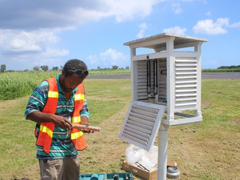 27/03/2019_VMGD Officer (Mr. Jeremy BANI) installing Minimum Temperature Thermometer at Tanna Airport
In response to VMGD requested JICA follow up scheme, JICA accepted to procure the meteorological equipment, including an advanced Barometer: PTB330 to be install at Aneityum and other Weather Station.
In providing these equipment's would normalize the work at existing weather stations especially to continue collecting data and to ensure having meaningful data especially for long term forecasting in and around Vanuatu. Having said that these weather stations were critically important, as they have more than 30 years history and the accumulated data that are valuable for long term analysis of weather patterns. The long-term data enables Vanuatu to prepare well for the future catastrophes events such as El Nino and other natural disasters.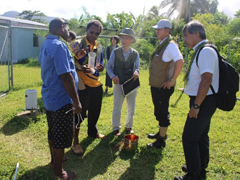 15/04/2019 _ JICA experts discussing with VMGD Officers at Aneityum Weather Station
On the other hand, JICA implements with Technical Cooperation, which is in a concept of continues assistance: Project for "Enhancing the capacity of issuing Earthquake, Tsunami and Storm Surge information (Van-REDI)". Through this project capacity building and disaster, early warning, weather information dissemination is improved.
Also collecting weather data and analysis for forecasting, moreover isolated island data also is deeply related especially Aneityum island in this project. Therefore, VMGD and JICA project experts collaborated together to set up and observation on the equipment onsite.
On 24 – 27 March 2019 a team including VMGD Staffs and JICA Vanuatu officer travel to Aneityum Island to install, PTB330 Barometer, One (1) Dry Bulb Thermometer, One (1) Wet Bulb Thermometer, One (1) Minimum Temperature Thermometer, One (1) Maximum Temperature Thermometer, Rain Gauge (Cylinder, Bin), One (1) soil Temperature Thermometer (1000mm) and One (1) Soil Temperature Thermometer (500mm). During same trip team, also install One (1) Minimum Temperature Thermometer at Tanna Island (Airport: VMGD Weather Station), replacing the old thermometer.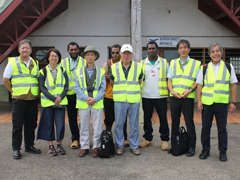 Inspection Team
Later on 15 April 2019 another team including JICA HQ meteorological expert, JICA Van-REDI project experts, JICA Vanuatu Staffs and VMGD staff visit same installation sites above checking installed equipment's operations and confirmed standard all installed equipment's being operational, providing well expected results.
VMGD has assured JICA that all procured equipment's will be install in all weather station as to enhance the data collection system, weather forecasting and dissemination of weather information prior to use of utilizing procured meteorological equipment's.