Tomoyuki Kogawa, Project coordinator / 3R+Return Expert
Jyunji Anai, Kokusai Kogyo Co., Ltd / Sub leader of Consultant team
Rikae kodani, Yachiyo Engineering Co., Ltd / Consultant in charge of Vanuatu
J-PRISM II is a region-wide project from 2017 to 2022 in Pacific Islands targeting "Human and institutional capacity base for sustainable Solid Waste Management (SWM) in the Pacific region is strengthened through implementation of Cleaner Pacific 2025."
In Vanuatu, J-PRISM II is closely working with DEPC and municipal such as PVMC and LMC where the two main town was located to achieve the country project purpose that "A foundation of implementing and monitoring SWM activities in line with the Vanuatu National Waste Management and Pollution Control Strategy (NWMPCS) is built."
J-PRISM and DEPC is working with Working Group, which was formed on June 2018 in order to promote National strategy.
Guidance of waste management plan in local government (province, City)
Consideration of introducing container deposit system (CDS*2)
Consideration of waste minimization policy
Support for spread of school environmental education and community awareness
*2 CDS is a system that a deposit is paid at import, or at manufacture, on drinks, per can or bottle, and When the cans & bottles are returned for recycling, a refund is paid to consumer.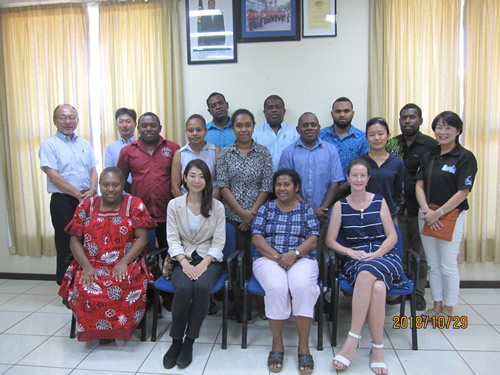 Second Joint Coordination Committee held on October 2018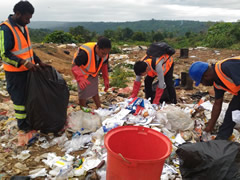 Waste audit survey conducted on August 2018
J-PRISM conducted a basic surveys together with PVMC such as waste audit survey and incoming waste record survey in Buffa landfill, Based on this result, Solid Waste Management Plan in PVMC for 2021 to 2030 is been developing, in this plan, Establishment of a new waste management division, Improvement of waste collection and Expansion plan of Buffa landfill will be established.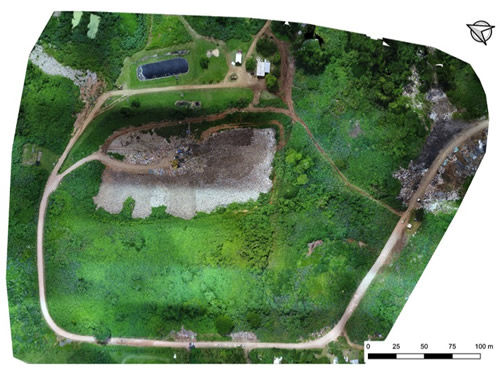 3D model of Buffa landfill (Aerial picture by Drone, March 2019)
On the other hand, we are supporting the establishment of the Vanuatu Recycling and Waste Management Association as part of collaboration in Melanesia with Polynesian regions.
Vanuatu, which consists of about 80 islands, has no recycling facility for recycling aluminum cans and plastic bottles. Therefore, in addition to "3R(Reduce, Reuse and Recycle)", J-PRISM II advocates that to return non-valuable material or valuable material toward developed countries, which can accept those materials in order to promote appropriate resource circulation and appropriate processing.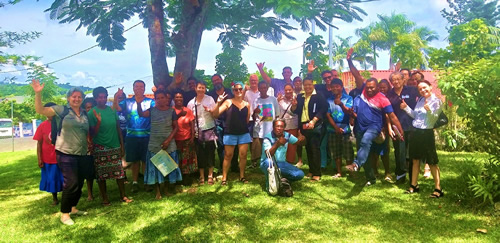 Group photo at kickoff meeting with the aim of establishing recycle and waste management association at March 2019.
Vanuatu has been implementing plastic ban ahead of other countries, and is getting attention from around the world.
The regulations prohibiting the use of plastic bags, trays, and straws have been in force since July 2018, and traditional leaf-woven basket bags is getting attention as alternatives to plastic bags.
In addition, seven plastic products such as forks, spoons, etc. will be banned from December 2019, and the movement of the banning of plastics is going to move to a new stage. J-PRISM II will work on various activities in 2019 in order to tackle with proper waste management in Vanuatu.