Basic Details
Lopanga Doveline Yerta Ores | Senior Information Management Officer
Vanuatu National Disaster Management Office (NDMO), Ministry of Climate Change & Adaptation (MoCCA)
I have had the privilege to participate in a one month Climate Change and Adaptation Course in Japan. The course was offered to my department through the Vanuatu JICA office and the Vanuatu Institute of Public Administration and Management (VPAM) which I had to apply for on a 50% chance to be accepted.
A total of 7 participants (including myself) from 7 different countries were accepted to participate. These countries are Vanuatu, Fiji, Ivory Coast, Vietnam, Guinea, Malawi and Mexico.
Course Experience
The course has deepened my understanding/knowledge on climate change issues happening around the globe, within different individual countries (including my own Vanuatu) and down to the communities and at the same time presenting possible solutions or adaptation measures that can be adopted in a participants home country.
The course has been a platform for knowledge exchange where I get to learn from other participants, share views on other work related matters and get as much information as I could from lecturers on their expertise.
The course facilitator's (coordinators & lecturers) were excellent in punctuality, coordination, providing informative & interactive lectures and assistance.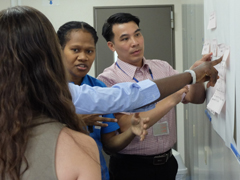 Interactive Session - Action Plan Formulation
Highlight: Capacity Building in developing Action Plan – a detailed plan/document that lists what steps must be taken in order to achieve a specific goal. It clarifies what resources are required to reach the goal and formulate a timeline of tasks needed to be completed to reach the goal.
From that I am able to develop an Action Plan to include Monitoring & Evaluation into the NDMO's reporting system. In addition I feel confident that I will be able to use this plan to achieve the activities in my departmental work plan and even to share the knowledge to my colleagues in order to improve our planning towards achieving goals.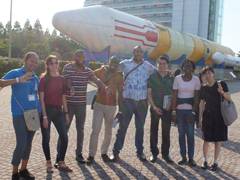 Site Visit to Saitama Prefecture Sea Dikes (Coastal Erosion Adaptation Measure)
Tours/Site Visits
The course also gave us the opportunity to do climate adaptation site tours, where we get to see real life adaptation activities that has both impressed us and allowed us to balance the pro's and con's to see which activity/measures to be best for our countries.
And most fortunately we visited JAXA (Japan Aerospace Exploration Agency) more like Japanese NASA. It was an awesome experience.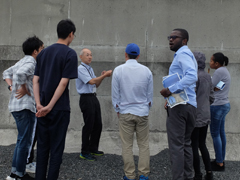 Site Visit to JAXA
Conclusion
In my opinion this JICA training has been well coordinated in a sense that despite the intensity/complexity of the program yet it was fun, very informative and has built my capacity and knowledge in Climate Change & Adaptation. And with a touch of the Japan culture, the training was made perfect.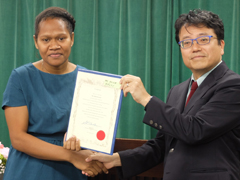 Certification of Training Program
I would encourage other interested applicants to apply for these trainings and don't just go there because of the country, but go there and make use of every opportunity to learn from not only the course facilitators, but also through interactions with the Japan people. Please visit JICA office to get more information on these courses.