Rikae KODANI
Mitsuko NAKAMURA
Hiroshi TSURUTA
Mayu NOMURA (J-PRISM II Expert)
The Samoa mission, which included four government officials including the Ministry of Natural Resources and Environment (MNRE- Samoa) and two private sector representatives, went to Vanuatu from the 18th of September to the 21st of September 2019 with the aim of learning about the pre-paid bag waste collection system. This included the Yellow Bag waste collection in Port Vila and the Red Bag waste collection in Luganville.
The mission had a fruitful discussion with the Department of Environmental Protection and Conservation (DEPC), the Port Vila Municipal Council (PVMC) and the Luganville Municipal Council (LMC). The mission also visited a community, waste collection points and the Bouffa landfill site for observation of the impact of yellow garbage bags in a real world scenario.
This regional study visit was realized and supported by the "Japanese Technical Cooperation Project for the promotion of regional initiative on solid waste management in Pacific island Countries, Phase II (J-PRISM II)" The article related to this visit is also released on the SPREP's Facebook and Twitter page in English.
Facebook: http://bit.ly/2m8mWCa
Twitter: http://bit.ly/2n0KF7H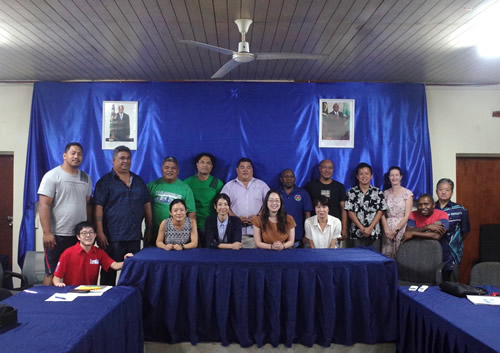 Group photo of Samoa mission and Vanuatu counterparts at the PVMC chamber, Port Vila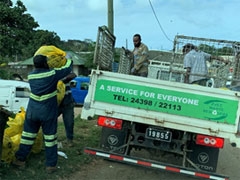 Site visit (1): Yellow Bag Waste Collection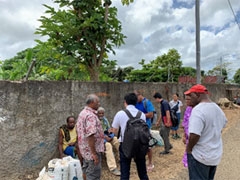 Site visit (2): Community Interview on Yellow Bag
[Voice of Participants]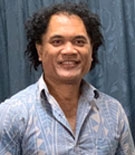 Voice #1_Samoa Mission
Afele Faiilagi, Assistant Chief Executive Officer
Ministry of Natural Resources and Environment, Samoa
The study tour on waste management experiences of, in particular the Lautoka City Council in Fiji, Port Vila in Vanuatu and Tongatapu in Tonga, were a great opportunity for Samoa to learn from the practical experiences on various aspects of waste management development and financing in those Pacific island countries. The experiences shared from Vanuatu regarding its yellow bag system in Port Vila Municipal and the red bag system in Luganville revealed some advantages and disadvantages of the two systems for Samoa to learn from and to consider the challenges/issues for the development of a more appropriate 'user pay system' that is fitting for Samoa. Furthermore, the program included a visit to the importer of the yellow bags, observations of the waste collection while on the run, discussions with the community and the local people to learn from their perspective which is critical information for us to look at for review as we progress into the user pay system development.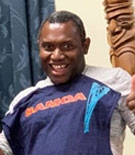 Voice #2_Vanuatu counterpart
Mwetu Serge Sandy, Waste Management Officer, Port Vila Municipal Council
Waste Management is a big issue in Vanuatu. During their visit, we acquired so much, and shared with them also so much information, especially that which helps us to improve the yellow bag waste collection system. We can also learn from them once they create their own user pay system in Samoa.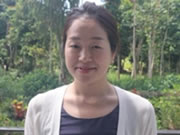 Voice #3_J-PRISM II
Mayu NOMURA, J-PRISM II Expert
J-PRISM II has conducted successive technical cooperation programs contributing to raising capacity on solid waste management and establishing a sound material-cycle society in nine Pacific island countries (PICs) including Samoa and Vanuatu. Human resource exchange programs among PICs like this study visit are promoted by J-PRISM II as a model of south-south cooperation aimed at capacity development from the aspect of society, organization, and individuals respectively.