Yuka KAWAHARA
JOCV:2018-4
Nursing
We held "Sopsop Kakae Workshop" at VSPD (Vanuatu Society for People with Disability) in which Ms. Saito acts on 19th July and 20th September. "Sopsop Kakae" means soft food like baby food. We suggested nutritious food for the children who have dysphagia to improve their nutritional status.
One day, Ms. Yuri Saito (JOCV:2018-4, Assistance and Education for Persons with Disabilities) asked me that she worried about their nutritional and immune status because their mothers gave them only bread (soaked milk) and mashed potatoes. I also worried about that while I had done infants checkup, and I thought that I wanted to make workshops about nutrition for children. I had taken care of elders who had dysphagia when I worked as a nurse in Japan and I have known about nutrition. So, we had made this workshop at VSPD.
At first, Ms. Saito made a questionnaire for mothers in order to know what kind of food they feed their children and what they want to know. And then, she observed children's postures and how to eat when mothers fed them. After that, we discussed how we made this workshop.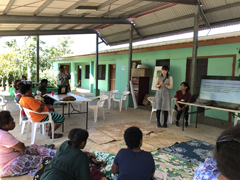 Ms. Saito told the needs and purpose of nutritional feeding, good eating posture and how to deal when children choke in the first workshop. And I told nutrition, how each nutrient acted children's development and swallowing development. Seven mothers participated in this workshop.
We made this workshop in Bislama, but we couldn't speak Bislama fluently, so we didn't know participants had understood what we told. We couldn't know their burden that they prepared food for their children with disability and their households from our questionnaire. After a week the first workshop finished, Ms. Saito contacted a dietitian worked Vila Central Hospital because she held her workshop about nutrition at VSPD.
We considered that she could answer parents' worries and questions in consideration of their condition. So we requested hers help for us on the 2nd workshop.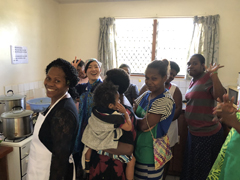 The second workshop was a cooking demonstration. A dietitian in Vila Central Hospital told three kinds of nutrition at first. Then, we cooked baby food with two groups. The dietitian made like potage soup, and we made pumpkin pudding and Okonomiyaki. We can make pumpkin pudding with simple ingredients such as boiled and mashed pumpkin, milk, eggs, and sugar. Children can eat it as sweets and get the necessary vitamin A and protein. We can also substitute bananas, sweet potatoes and carrots. Also, we made Okonomiyaki with Island cabbage and tuna.
There is laplap which is one of the traditional foods in Vanuatu. It is similar to Okonomiyaki because we eat it with our family. Therefore, I introduced Okonomiyaki the same like laplap, their response was good. Mothers were interested in these foods that they made their first time and liked the tastes. One mother made it from yam, island cabbage, and spring onion after the workshop. We were glad to see that.
There are valuable vegetable and fruit in Vanuatu, but we can't get them anytime and buy expensive imported ingredients. So, they usually use carbohydrate like rice, bread, yam, and cassava. Mothers feed their children who have a dysphagia carbohydrate- centered meals. We are worried about lack of protein, vitamins and minerals for children. We hope that mothers become to be interested in nutrition and improve children's nutritional status through our workshops.