JICA VOLUNTEER 2018-4
RYOSUKE ITOMI
ATHLETICS COACH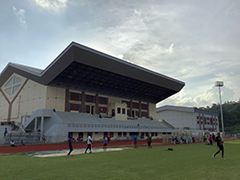 Korman stadium
I am Ryosuke Itomi, assigned as an athletics coach in Vanuatu. I joined 2 months training in Japan this January while I was a university student and came to Vanuatu in April right after the graduation. Although Port Vila is a small city with population of 50000 people, it is vibrant during the day and I could tell it is the capital of Vanuatu. The infrastructure of the country has been mainly supported by international aid and Korman stadium where I am working, was also constructed by Chinese aid in 2017. My major tasks at "Athletics Vanuatu", the athletics federation, are; coaching middle and long distance athletes to improve their performance, popularising Athletics nationwide and accompanying to international games.
After an orientation for mainly learning Bislama, the local language held in April, my activity started from early May. From the first day, I had a chance to watch "Vanuatu National Games" held in Tanna island. It was a national championship, also a selection for the "Pacific Games". Pacific Games is much like Olympics but exclusively for Pacific nations and next games was due in July in Samoa. After the competition, I was suddenly appointed as a national coach due to the lack of middle and long distance coach. Only after three days when I started coaching, I had to start instructing athletes without enough experience and confidence.
When I visited the stadium for the first time, I sensed athletes were doubting "Is this young guy OK as a coach?". Football's foreign coaches must have wondered "A young Japanese with poor English came here but what can he do?".
However, I had no time to be worried about it. Ni-Vanuatu are known as not good at math, so first I had to teach to calculate how many rounds of 400m track they need to run for 1000m. Confused at the beginning, I was able to complete the same training together with the athletes, I seemed to gain guradully some trust from them.
Pacific Games opening ceremony
former volunteers had struggled to make athletes attend the trainings, but I was relieved to see most of athletes were in the track 15 minutes before the due time and started warming up by themselves. They achieved some of the toughest work outs and committed to training with great motivation. Of course, there might be an exception, but it was completely unexpected in a good way. Gradually I began to find out the ways of coaching which suits them, and came to be satisfied. I found that Pacific Games is more important than Olympics for them; there are huge gaps in the performance level between the two competitions. I realised my great responsibility for the upcoming Pacific games.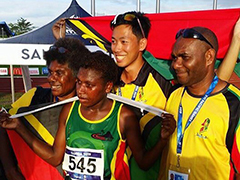 Medal ceremony in Female 10000m
The Vanuatu team participated Pacific Games aiming to win 2 gold medals, 4 silver medals, and 7 bronze medals in total. The opening ceremony was magnificent and traditional Samoan dance "Siva Samoa" was performed. With full audience, it was like an Olympic. The event was continued for 2 weeks and Athletics was planned in the last week. We did tapering training and went around other discipline's match to cheer in the first week. There was a great atmosphere at the athlete village. Everyone welcomed the athletes, especially medalists, and they made good atmosphere to motivate each other.
At the last half of the event, it was our turn. Athletics team won 1 gold, 1 silver and 4 bronze medals. Our athletics team contributed to the nation's goal. a female athlete under my instructions won a silver medal in 10000m, and a gold medal in half marathon with both national records. being only for three months in Vanuatu, I got emotional when hearing national anthem of Vanuatu at the medal ceremony.
In addition, it was a first time in these 20 years that a female Vanuatu athlete won a gold medal. I was really glad to contribute to breathing new life into history of women in sports in Vanuatu. Other disciplines' coaches celebrated with smile and handshake, and I was relieved that finally I may have been accepted. In the end, Vanuatu had a huge victory winning 6 gold medals, 8 silver medals, and 12 bronze medals. Not only the athletes but also a lot of citizen were delighted.
After that, we took two weeks off and decided to re-start the training for next international matches such as Tokyo Olympics and Melanesian regional games. However, something unexpected happened. I got confused that nobody came to the track for the training. According to some athletes, they wished to take more rest. Apparently, they normally take 6 months off after the international matches. Unbelievable! What I experienced for these 3months was special. They were just getting excited before the competition.
It might be same for them to join such a honorable international competition as representatives of a nation or a school sports festival as students. Most of them knew that they will be selected as representatives again and kept little motivation to continue the training. In Vanuatu sport is only one of the measures to enrich their life. This is a huge difference between Japan; sacrifice for achieving dream is regarded as virtue.
Currently a few athletes keep training whereas most of them are still away from the track. Some of them quit athletics because their self-esteem got hurt with mistakes and failures, but I believe they are essential for further growth and they should go beyond such difficulties. It was lucky for me to face the reality in Vanuatu athletics and that will be a basis to decide next steps.
Now I am supporting Athletics Vanuatu to run regular training for elite athletes to work on their basic skills and sessions for coaches to develop their coaching skills, planning domestic meetings, establishing youth club team in schools, introducing criteria for athlete selection and making a system to encourage athletes to train themselves.
I would like to express my gratitude from the bottom of my heart for this opportunity that I could work with important roles. I am making my best effort to build an essential foundation for sustainable development of athletics in Vanuatu targeting a great number of medals at 2027 Pacific Games hosted in Vanuatu. I will walk along this journey together with Ni-Vanuatu and look forward to their progress.