Dr. Hiroaki Terashima,
Expert of Fisheries Extension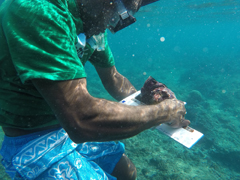 Survey on distribution density of green snail
JICA is implementing the "Grace of the Sea Project Phase 3 (2017 to 2021)" in Vanuatu, one of the Small Island Developing States (SIDS) in the South Pacific.
As the project title suggests, this project follows its predecessor Phase 1 (2006-2009) and Phase 2 (2011-2014). Through whole phases, we have tried to disseminate coastal fisheries resource management in collaboration with the Vanuatu Fisheries Department (VFD) and the coastal communities..
There have been abundant coastal resources in Vanuatu. It was especially famous for abundant green snail, which is a primary material for design in mother-of-pearl inlay. However, in recent years, the resources amount has been decreasing globally, and the domestic resources of green snail in Vanuatu have become almost extinct. For this reason, the Vanuatu government has been prohibiting fishing of green snail since 2005.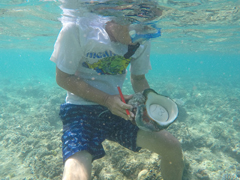 Marking on collected green snail
In order to improve this situation, the Grace of the Sea Project Phase 1 and 2 worked on the resource propagation of green snail. As one of trials, the projects transplanted parental green snail individuals to the taboo area (where the local community traditionally banned fish and shellfish catch) because it is known that the converging parental green snail individuals in one place leads the reproduction and the part of offspring grows around the transplantation place. It was therefore expected the positive effect to the resource propagation. Several years later, ecological surveys undertaken by other donors and research institutes showed the green snail resource was increased. However, it was still vague the direct effect of the transplantation of parental green snail mentioned above to the increase in population.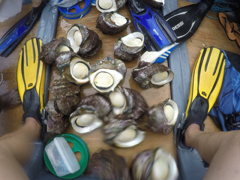 Green snail collected for transplantation
The "Grace of the Sea Project Phase 3" consequently implemented a research for understanding the distribution density of green snail around the transplantation site of parental green snail. As a result, the density of green snail showed significantly higher in the transplantation sites than most of other areas. It was confirmed that parental green snail transplantation contributes the resource propagation. Additionally, the local community has set the transplantation site in the taboo area gave the positive effect for the resource propagation.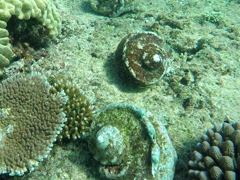 Individuals of green snail transplanted
Based on the result, in the "Grace of the Sea Project Phase 3", the transplantation activities have been undertaken from the areas where previously performed green snail transplantation and have become rather the rich resource now to the areas where there used to be abundant green snail, but now it is no longer seen due to overfishing. It is naturally important to explain the reasons and effects of the transplantation to both donor and recipient communities and gaining understanding and support from them
Through these activities, we would like to continue supporting the revival of coastal resources in Vanuatu.