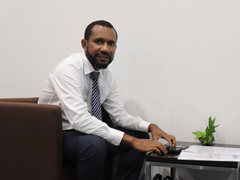 My name is Mark Vurobaravu, from Vanuatu. I currently work as Principal Agriculture Officer, responsible for policy and planning at the Department of Agriculture and Rural Development, based in Tagabe, Port Vila.
In August 2017 I was fortunate to be selected to pursue a Master's degree under the JICA Pacific Leaders Educational Assistance for Development of States (P-LEADS) 2nd batch scholarship program, in Tokyo, Japan.
At the Graduate School of Arts and Sciences of the International Christian University, I completed a 2–year study and research program in June 2019, and graduated with a degree of Master of Arts in Natural Sciences, focusing on salinity stress and climate adaptation in agriculture.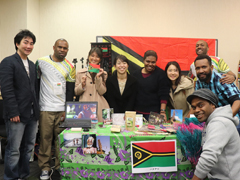 The title of my Master's thesis is "Genetic analysis of salinity stress tolerance in Brassica rapa." In this study, I undertook to assess tolerance capacity of 21 lines of Brassica rapa, a leafy-vegetable crop common in tropical and sub-tropical climates, grown and exposed to the effect of salinity. The research has addressed salinity because it is one of the environmental stress conditions in low-lying islands and coastal areas of Vanuatu. Three of those lines were established as superior in their tolerance capacity and recommended for further trials at field conditions.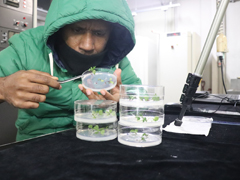 My experience in Japan can be expressed as a journey of growth and rewards. It is an amazing country that presents me with so many wow memories and encounters. People can be shy and reserved but very kind and respectful. The food is great. Commuting is fun and convenient. This opportunity also presents the challenge of learning a new language which was not easy but I am happy I got a chance to learn basic Japanese (survival level). I love the changes in season, although winter was hard and cold but I enjoyed my snow experience. Moreover, I met so many friends, professionals and connections that this program has presented to me.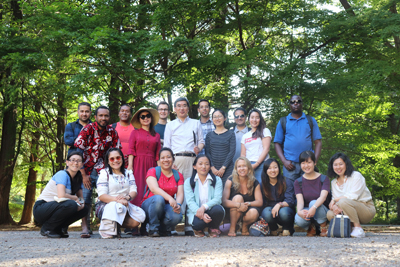 This MA qualification is necessary to meet certain requirements for promotion within my work organisation. The expanded knowledge on climate change adaptation and skills on scientific research will no doubt be a huge plus for my country.
Upon returning to my organisation I recommended a climate-smart greenhouse production model studied in Okinawa, which was taken up positively for adoption by my organisation. There is strong relevance in this model for Vanuatu because the climate and disaster risk challenges for Japan are more or less the same for Vanuatu. In addition, I plan to out-scale my research findings on salinity stress in the islands currently experiencing salt stress problems.
Furthermore, my role in the next 3-7 years will be into policy development, management, and supporting my organisation with corporate planning.