Hiromi FUJIOKA
(JOCV: 2019-4, Handicraft)
I am assigned at Department of Industry (DOI) as a Handicraft Support Officer.
I shared ideas to producers for adding values on their Vanuatu local Handicrafts.
The economy of Vanuatu is supported by tourism industry so we are making effort in providing support to producers who make some local product for tourist to purchase "Vanuatu-Made" products as one of our business descriptions.
Vanuatu handicraft has a problem. It is increasing imported souvenirs at stores in there days. One of the survey said, "The imported items have now become at least 90% of the products traded tourists".
The Department planned an event, which is called Vanuatu Made Week and was held in Port Vila. This event was also held last year, then this year's event was very grand with showing off the new logo of "Vanuatu-made". Through this event, I felt that the local people loves local industry and they really want to increase the Vanuatu made products.
And now, my usual work are roughly 2 categories. Firstly, sharing new ideas for adding values on Vanuatu Handicrafts. Secondly, supporting handicraft workshops which are provided by DOI. I tried to come up with new ideas and making some samples with some producers especially using Pandunus leaves (*Photo1, 2) and Coconuts shells.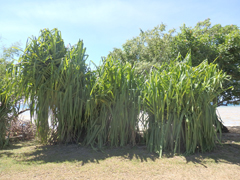 Pandanus leaf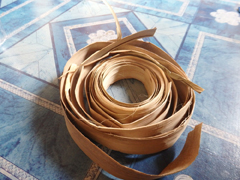 Dried Pandanus leaf
Especially one new idea became the most popular product out of all the others products and it's called "Compact-Mat" (*Photo3, 4)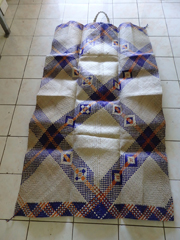 Photo 3: Compact mat (1)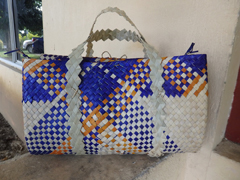 Photo 4: Compact mat (2)
Sometimes it is very tough getting new idea and to start making it for the producers because of difficulty of keeping motivation or difficulty of supplying materials etc. Therefore, we should share new ideas that is able to make in a short time, made from the materials that can be collected easily or adding ideas and values for existing Vanuatu handicrafts (things of familiar to local people). Based on these, Compact-Mat was created. It was made with familiar mat in Vanuatu and just added the handle made from Pandanus, therefore, it became popular item among the producers in town and participants at workshops. Fortunately, one producer who works at Haos Blong Handikraft made Compact-Mat energetically, She has sold five Compact-Mats and also the quality seems to be gradually improved for each time she produced the product.
The workshops in rural communities have given to me great experiences that are not usually be seen in local livelihood in Port Vila.
The workshops have held in Siviri village, Emae Island, Tongoa Island and Nguna Island, the program was usually 2days. We tried to make around 10 items included Compact-Mat with participants. At received first, I find it difficult to know how to make the workshop as Vanuatu Style, but It was finished successfully by help from DOI officers and the participants. In addition, when we have seen many participants who have motivation to make a lot of creative handicraft, I have also gotten motivation for my volunteer work from them.
I want to share to local people about my experiences which the pleasure of making things all through my volunteer life, so I was wondering that I reached this goal when I have seen many motivated participants.
During one of our workshop, our return flight was delayed for three days because of heavy rain and wind. But local people allowed readily to our extendable accommodation. During three days for waiting return flight, local people gave me great times. For example, showing how to make Lap-lap (local food), chatting and weaving pandanus leafs etc. I got small surprised when I went to toilet at night. We stayed in a separate house from the toilet. It is far from my bedroom. l heard a sound something strange … It was Cow! Because people live with many cows nearby. Through this experienced , I felt 'We always live with nature' and it gave me chance to get broad insight and to bring up my sensitivity.
Our goal was finished successfully and then I will leave here in a few days. 'Vanuatu handicraft's great story from its history' I hope the handicraft producers will make use this strength for rising Vanuatu-made. And I'll always cheer for friendly and cool coworker (Team DOI) who keep effort for Vanuatu-made !!