Kumi KOBAYASHI (JOCV: 2018-1, School Health)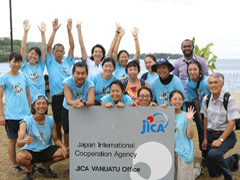 This International Volunteer Day, held on December 5, JICA volunteers team conducted health awareness activities for people in Vanuatu.
The objective of these activities was to encourage participants to change their behavior and adopt a healthy lifestyle. Even though many people have an understanding of what healthy practices are, it often does not translate into behavior change. Therefore, we set up an activity which would help people to understand the link between exercise and diet more deeply.
One of the activities we offered was an opportunity to exercise, by jumping rope. The prizes for jumping rope were sweet drinks and food with different calorie values, and the prize that participants earned corresponded with how many calories they burned through exercise. For example, by completing 35 jumps, participants would be rewarded with pineapple, but for 70 jumps, they would be rewarded with ice cream. It is difficult to burn many calories in a short time, so each prize was roughly around 3 times the number of calories expended.
Not only did this activity help people to realize the relationship between calorie intake and exercise required, it was also a way for participants to meet and interact with JICA volunteers.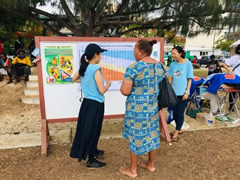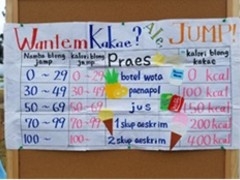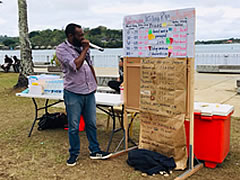 The procedure on the day was as follows:
1. We would measure the height and weight of participants, and determine their BMI.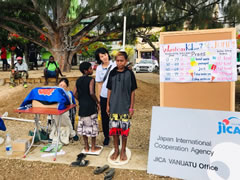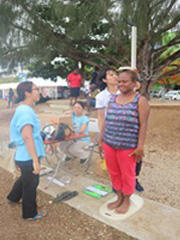 2. Participants could then do the jumping rope exercise for up to 5 minutes, along with friends and JICA volunteers.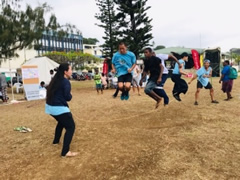 3. Participants would then receive a prize according to the number of jumps and calories burned.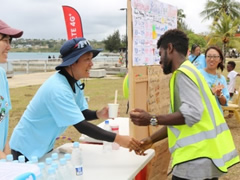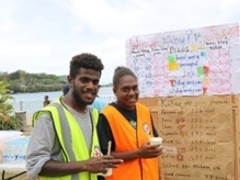 4. Unhealthy participants (those who were overweight or obese) could visit JICA's consultation booth to get more advice and information.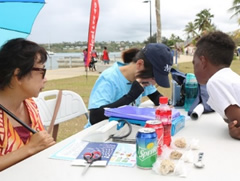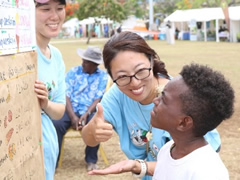 Around 80 people participated in the day's activities, and over 45% of them were overweight or obese.
A comment heard frequently that day was that "exercise was hard", and people would often lament that they do not have many opportunities to exercise. However, participants also said that they enjoyed the experience of exercising with friends and JICA volunteers. The also remarked that the reward system (where the reward depended on the amount of exercise they did) was also an effective way to keep them motivated.
The lesson people took home from the event was that it is okay to have sweet drinks and junk food in moderation, as long as there is also the proper balance of healthy eating and exercise.
This event was a good opportunity to get people to reconsider their lifestyles by making it evident how much exercise is needed to burn calories.