Yoko ONUMA
JICA Expert (Monitoring/3R+Return)
On November 25, 2019, the launching ceremony of the Vanuatu Recycling and Waste Management Association was successfully held in Port Vila, Vanuatu.
The establishment of this association was made possible through the support of the JICA "Japanese Technical Cooperation Project for Promotion of Regional Initiative on Solid Waste Management, Phase II" (J-PRISM II). This launching ceremony was co-sponsored by Vanuatu Recycling and Waste Management Association, J-PRISM II and JICA.
A total of 62 people participated in the ceremony, including Prime Minister Charlotte Salwai Tabimasmas, Ambassador of Japan Harumi Katsumata, Australian High Commissioner, New Zealand High Commissioner, British High Commissioner, French Ambassador, Department of Environmental Protection and Conservation, Port Vila City Council, Vanuatu Chamber of Commerce and Industry, and the Secretariat of the Pacific Regional Environment Programme (SPREP).
Honorable Charlot Salwai Tabimasmas, Prime Minister of Vanuatu, expressed his excitement during his keynote address to formally recognize the existence and operation of the new association and said in the speech, "The challenges to our environment are immense and government cannot do everything. We need partnership. We need commitment. We need responsible citizens, and together we can create a healthy environment."
Mr. Andrew Hibgame, Chair of the Vanuatu Recycling and Waste Management Association (President of Recycle Corp), thanked the invited guests for their support and participation in celebrating this milestone of the association. He also called for their continuing support in the implementation of future activities of the association and said in the speech, "One of the association's first priority activities will be a preparation of policy paper on beverage container deposit system as a necessary and suitable model for Vanuatu".
Ms. Harumi Katsumata, Ambassador of Japan expressed her appreciation of the accomplishment made by Vanuatu recycling association and said in the speech, "We are very happy to be part of Vanuatu waste management team to support the setting up the association and Japan would like to encourage more islands to set up recycling association in the Pacific like Vanuatu."
Members of the Vanuatu Recycling Association are composed of private recycling company, environmental NPOs, and beverage manufacturers. The private recycler in Vanuatu collects used automobiles, used lead-acid batteries, and used home appliances, then extracts ferrous and non-ferrous metals and export them to overseas.
Vanuatu currently has no effective methods to export used plastic products and other hazardous wastes for proper disposal and recycling. In the future, through the activities of the Vanuatu recycling association, it is expected that institutional design of recycling systems utilizing network between private companies and government will be promoted in Vanuatu.
Group Photo of the attendees of the launch of the association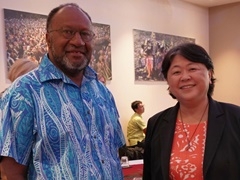 The Prime Minister Charlot Salwai and The Ambassador of Japan Harumi Katsumata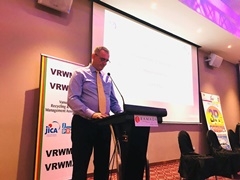 Chair of the new association, Andrew Hibgame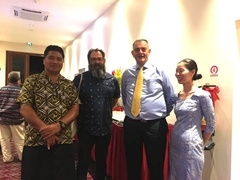 The association members and JICA Experts
Source: https://dailypost.vu/news/vanuatu-recycling-and-waste-management-association-officially-launched/article_d506bd6a-109b-11ea-bcc0-c71f18a2ffdb.html