Mr. Adrian BANGA, IT Manager, Ministry of Education and Training
Ms. Lisa KEASI, Health Information System Data Coordination Officer, Ministry of Health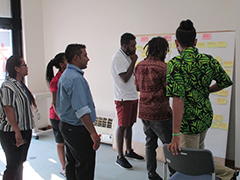 Under a JICA Training Program, called Young Leaders, two participants are nominated to join and our names are Mr. Adrian BANGA, the IT Manager in the Ministry of Education and Training, and Ms. Lisa KEASI working as Health Information System Data Coordination Officer in the Ministry of Health. The two of us were fortunate to attend the training in Japan for two weeks.
The training course is titled "Policy on Information and Communication Technology" and it targeted young leaders who will become nation-building leaders in the future.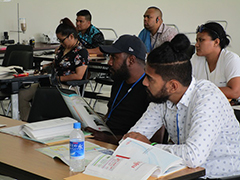 With this training, it is expected of us to develop specialties through experiencing and learning technologies and skills in Japan and increase our willingness to resolve issues on our own.
The training was divided into two parts, first part was just observations and the second part was hands on training-workshop.
Through the observations, we were fortunate to visit various government and private sector departments and study how their data has is collected and stored in different advanced technologies and managed.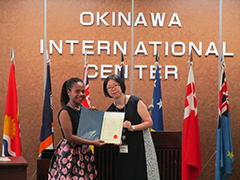 The experience was superb as we also experience the Japanese culture, weather and interaction with other participants from Japan and other countries including Pacific Island Countries.
We confirmed Japan is more advanced in technology and its data systems, which are real time data and do not involve much of manual tasks. All the data are collected into particular systems by systems (Automatically) and are closely monitored.
The places we went for observations are; a plant for surface water storage to support farmers especially during dry season(Irrigation plant and land improvement), IT Business where it supported the Entrepreneurship startup businesses, Purification and sea water desalination plant, a Mobile library, Meteorological Observatory, Airport Terminal Building, Waste Management center and Hospital system.
From the observation then an action plan was developed called "Systems Integration and Data Sharing" which both of us will be working on in our respective countries context.
We plan to start with focus on the Education and Health Data and the area we will be implementing data sharing is on the vaccination and de-worming program carried out by Health department in schools. This plan still needs support and approval from our superiors and there will be other barriers too but it is achievable and if successful we would like to expand to other Ministries.
Thank you to our respective departments for supporting us to join this training, to the government of Vanuatu through Vanuatu Institute of Public Administration and Management (VIPAM) and JICA for the Opportunity. We had a good learning experience in Japan and we believe it has enhance more our capacity to improve on the systems Integration and data Sharing action plan that we developed.