Michiko Matsui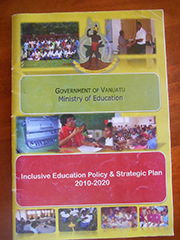 Materials of Inclusive Education
Dispatched to Vanuatu
I am a senior volunteer of the Batch 2017-4.I came to Vanuatu in March 2018 and started my activities. Before coming to Vanuatu, I was active in Samoa for the same assignment in two years. In Samoa, I was assigned to a special support school of a New Zealand-supported NGO, and mainly supported children with intellectual disabilities. At that time, I often heard from other volunteers who taught at school that Samoan teachers only evaluated children who were tripping over at regular school because they were "lazy". I felt like a dilemma about the lack of understanding of children with disabilities at regular schools, but there was nothing I could do about it. Vanuatu has no special school for children with disabilities, and my activity is to visit the school to support children, and I was able to get a hand on training which is a wish for me as in Samoa previously I was not able to do anything about two related matter.
National Policy
I am assigned to the curriculum development unit of the Ministry of Education and Training, which edits curriculum, instruction books, and textbooks. Here, it also creates an inclusive education booklet for teachers. According to it, government of Vanuatu has been promoting "Inclusive Education Policy & Strategic Plan" as a 10 years plan from 2010. Inclusive education is an education that aims to accept all children in regular schools regardless of the gender, community, or disability behind them.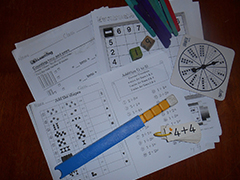 Text of Math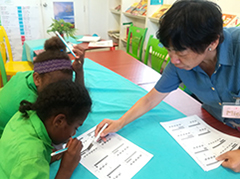 Individual Class
Current status
Although it is said that the Ministry of Education and Training is promoting inclusive education, the reality is that the school teachers also have insufficient knowledge about inclusive education, so there is no system to accept children with disability at school, and it is private schools that accept them by parents' reviews. Although there are many cases that children go to local schools but are treated as a "guest" and do not go along the way, and it seems that in the current situation children in remote islands and mountains without enough access to school may not have opportunity. In the vicinity of Port Vila, special support classrooms and special support teachers are located, and inclusive education is gradually being promoted, though in only three schools at this moment.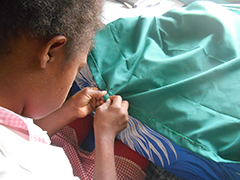 Instruction of the Sewing
About activities
My main activity is to support learning with small groups at 6 public schools and 1 private school on weekdays. In many public schools, more than 50 students per class are studying, and there is a scene where everyone cannot understand because one teacher is instructing.
For a while after I started the activities, I introduced myself and observed how the classes were in each class. Children immediately came to remember my name and speak to me.
In order to focus on children who really needed support in conducting small-group instruction, I asked homeroom teachers to list up less than 4 students in each class. If I just ask them to teach children who are late in learning, they give a lot of names.
It is rare to see children with moderate or severe disabilities at public schools in Vanuatu. Most of them have learning difficulty. They have the ability to understand if teachers take enough time to teach and explain easily.
Mainly in the lower grades, I give instructions flexibly according to the grades and actual conditions of the children who came in the place other than the classroom and I prepare handmade print outs or prints I got on the internet. I let them solve the problem of addition and subtraction until they come to have no mistake, and when I finally draw a picture (cars, flowers, etc.) on the print as a reward, they go back happily with it held in their hands.
In Vanuatu, classes are taught in Bislama, a native language, in the lower grades of primary school and English or French is selected from the middle grade and classes are taught in either language. Many children have insufficient English skills, so I use cards to pronounce words that begin with A, for example, and to teach them to write the alphabet correctly. Depending on the schools, there are no vacant rooms, so I borrow a library for guidance, or a school with a support classroom has a special support teacher so I can exchange information with the teachers and also I give a child guidance individually. There are various teaching methods.
The private school I am visiting is a school run by an Australian. About 40 children with disabilities attend this school, including children who have completed VSPD(Vanuatu Society for People with Disability),which is a support facility for preschool children. There are children with various disabilities such as children with hearing impairment, visual impairment, autism, congenital limb deficits, and physical disabilities. Each class has supporting teachers who provide education while taking out lessons according to actual situation. This is an ideal inclusive education. I visit this school twice a week to give advice to teachers with children hearing impairment, visual impairment and physical impairment and play others.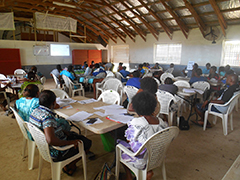 Presentation in Mathematics Teachers Association
Enlightenment activity
I usually go to school, but I want to promote more inclusive education. In collaboration with JOCVs, I decided to visit teachers field training sites to give presentation on inclusive education.
First, I gave a presentation at the Shefa Province Mathematics Teachers Association in the capital, followed by a presentation at Sanma Province Mathematics Teachers Association in Santo island. I took a questionnaire after giving a presentation. I received valuable information such as learning about inclusive education for the first time, changing awareness of children who could not understand the content of classes, or needs of more training. Around that time, the inclusive educational teachers network meeting was launched and I was able to make a presentation there. This is a group of teachers who work in the vicinity of the capital to help children with disabilities, and they posted information Facebook. At this meeting, public and private teachers and officials from the Ministry of Education and Training gather to share information on various issues in the field. The Ministry of Education and Training aims to collect the data of each province school on children with disabilities, as inclusive education plan for 10 years may make a break in 2020. I attended the data entry workshop, and I gave a presentation. The farther away the island is, the lesser knowledge and perception of inclusive education principals and School Improvement Officers (SIOs) have, I felt differences in understanding on inclusive education in remote islands compared to part Vila (the City).
Challenges and prospects
Vanuatu has many islands, and Information Technology system is still inadequate, making it difficult to convey inclusive education information to all teachers. There are still some areas with families and communities that do not understand school education. Some institutions offer courses on children with disabilities for teachers and teacher applicants, but only in the capital city. Further national awareness of inclusive education is needed.
In order to promote inclusive education, the next step is to identify children that need supports and to provide appropriate guidance for each, but in the current situation it is a huge challenge against some problems such as a lack of teachers and a poor learning environment.
Smile and growth of children is source of my activities. I go to school with the hope of supporting children as much as I can.