Junji ANAI, Rikae KODANI (J-PRISM II Expert)
On February 24th, 2020 at the VMGD conference room of the Ministry of Climate Change, the third Joint Coordination Committee (JCC) of the "Japanese Technical Cooperation Project for Promotion of Regional Initiative on Solid Waste Management in Pacific Island Countries Phase II (J-PRISM II)" (Project period: February 2017 – February 2022) was held as a fruitful discussion among the counterparts of J-PRISM II in Vanuatu. The participants confirmed the progress of the project last year and agreed on the work plan for next year.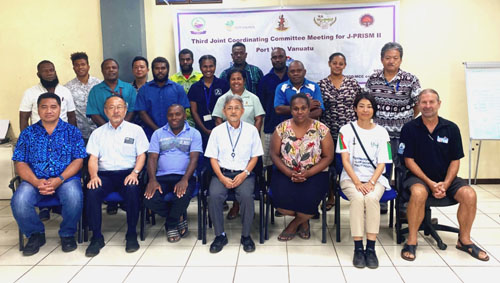 Group Photo in the third Joint Coordination Committee (24th February, 2020)
J-PRISM II experts are working closely with the Department of Environmental Protection and Conservation (DEPC), the Port Vila City Council (PVCC) and Luganville Municipal Council (LMC) with aim to enhance the capacity of implementation and monitoring of the "National Waste Management and Pollution Control Strategy (NWMPCS) 2016-2020." At this time, JCC agreed that the acting town clerk of LMC and Shefa province would become a new member of J-PRISM II.
Moreover, JCC agreed that a new output be added to introduce the Container Deposit Scheme (CDS)[1] in Vanuatu based on the Council of Ministers' (COM) decision on October 30th, 2019.
[J-PRISM II Project Design Matrix (PDM) version 3.0 in Vanuatu]
OUTPUT1: Institutional capacity of DEPC to implement NWMPCS is enhanced with the cooperation of the Working Group.
OUTPUT2: SWM activities of PVCC are properly implemented and monitored in line with the SWM Plan.
NEW! OUTPUT3: Economic incentive scheme is initiated for promotion of 3R + Return in Vanuatu.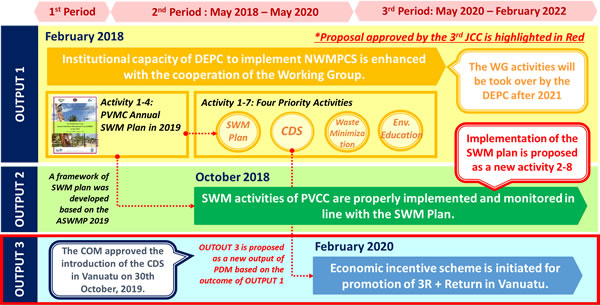 Note
[1] CDS is a system in which a deposit is paid, at import or manufacture on drinks, per can or bottle, and when the cans and bottles are returned to the designated collection points, a refund is paid to the consumer.
[OUTPUT 1: Priority activities of the NWMPCS Working Group in 2020]
The DEPC and J-PRISM II set up a working group for implementation and monitoring of the NWMPCS in June, 2018. The WG selects priority activities, and implements and reviews the progress annually. The 3rd JCC agreed on the four priority activities for 2020 as follows: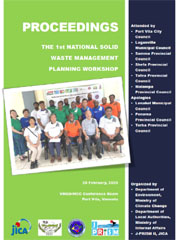 Proceedings of the 1st National SWM Planning Workshop (28 February, 2020)
| | |
| --- | --- |
| i. | Dissemination of an annual SWM planning and monitoring system in the provincial and municipal government councils (Thematic 1, NWMPCS). |
| ii. | Detailed design of a Container Deposit Scheme (CDS) for its initial setup (Thematic 2, NWMPCS) (to be implemented as OUTPUT 3 of PDM3) |
| iii. | Development and endorsement of a waste minimization plan (Thematic 4, NWMPCS) |
| iv. | Promotion of a Clean School Programme by identifying one school in each province as an environment model school and environment ambassador (Thematic 7, NWMPCS) |
[OUTPUT 2: Pilot Projects of the PVCC SWM plan 2021-2030]
The PVCC and J-PRISM II are implementing the following eight pilot projects (PP) to develop a solid waste management plan of PVCC by the target year of 2030.
| | |
| --- | --- |
| i. | Waste collection improvement with community |
| ii. | Private collection monitoring (GPS trucking survey) in collaboration with DEPC and Shefa province |
| iii. | Waste pickers survey and safety training |
| iv. | Promotion of market composting |
| v. | Promotion of home composting and gardening |
| vi. | Promotion of Clean School Program (to be linked with the priority activity 4 of OUTPUT 1) |
| vii. | Awareness raising activities during the National Environmental Week, including an illustration contest for the cover page of the SWM plan |
| viii. | Yellow Bag Review Committee |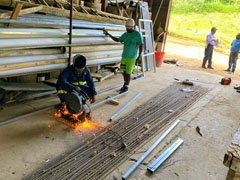 PP1: Manufacturing rubbish beds for collection improvement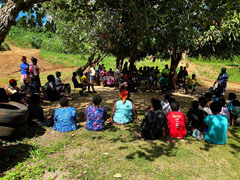 PP3: Kick-off workshop for safety training with waste pickers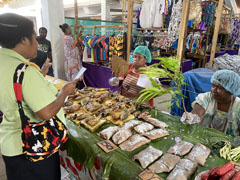 PP4: Awareness campaign for promotion of market compost at the central market in PVCC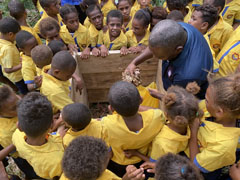 PP6: Environmental education and demonstration of compost at school
[OUTPUT 3: CDS Technical Working Group]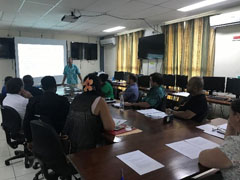 The 1st CDS Technical Working Group
As a priority activity of OUTPUT 1, a pre-feasibility study for introducing CDS was implemented in March 2020, and the COM approved in principal the introduction of the CDS in Vanuatu on 30th October, 2019. Based on the COM decision, a working group composed of the representatives of the national governments, beverage producers and importers, and civil society was formed, to develop the detailed design for the CDS, in December of 2019. The CDS Technical WG is held monthly. A total of four meetings were held so far as of March, 2020.
[Reference]
SPREP: About J-PRISM II
https://www.sprep.org/j-prism-2/home
PACIFIC ISLANDS 3Rs + RETURN ADVOCATES
https://www.facebook.com/groups/2804397412956820/permalink/2890288684367692/
https://www.facebook.com/groups/2804397412956820/permalink/2879325705463990/