In Japan, the public transport service (in the form of car-sharing) started in Kyoto in 1903. Since then, the bus business developed as one of the means of transportation throughout the nation. The bus business, in terms of cost-effectiveness, affordability to the public, and competitiveness against other transport modes, is essential as public transportation in developing countries. JICA has been for decades supporting bus operations in a number of countries by taking advantage of the more than 100 years of know-how of Japanese bus operators. The following summarizes JICA's on-going and notable technical cooperation programs in three Southeast Asian countries.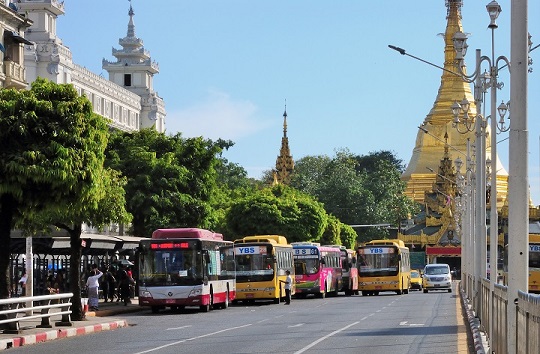 City bus in Yangon. The expertise of the Japanese bus industry is being utilized in various areas such as operation, inspection, and management
Myanmar: Transfer of technology to support "safety and security"
Since 2017, JICA has been implementing the "Project for Improving Public Bus Service in Yangon" in Myanmar's largest city. Yangon currently has a population of about 5.1 million and is projected to exceed 9.5 million in 2035. This rapid urbanization will result in serious traffic congestion and the subsequent need to build a human and environment-friendly public transport network.

For the public Yangon Bus Service (YBS) that operates in the city, JICA is carrying out technology transfers on operation technologies and maintenance of vehicles by Japanese bus operators. In line with this, we obtained the cooperation of Shinki Bus Co., Ltd. (Hyogo Prefecture) for the maintenance and management of vehicles. They are training YBS personnel on how to detect mechanical problems, such as checking nut looseness and tire pressure using a vehicle inspection hammer. They have also created a daily inspection manual using videos taken of each situation. In addition, they are also working to improve services by teaching driving and customer service manners and distributing bus maps containing bus routes and timetables to residents.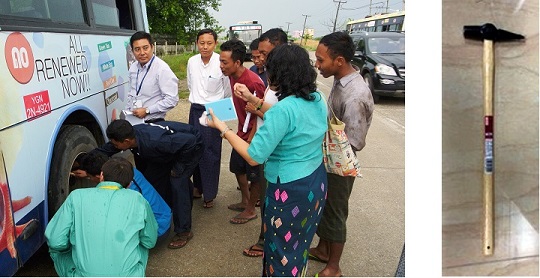 Vehicle maintenance training session (left) using vehicle inspection hammer (right). This is an unfamiliar method for YBS mechanics and others, and they can't hold back their surprise
"In Yangon, there were originally about 7,000 individual private business bus owners, and bus operators were competing with each other to get much fare revenues as possible, rather than driving safely or driving on schedule. Currently, YBS is incorporated as a business, and the private business bus owners have been integrated into eight groups of 21 companies. We provide a variety of guidance so that operators can provide high-quality public bus services," explains Michimasa Takagi, a JICA Expert supervising the project.

In addition, speaking of his future aspirations, Mr. Takagi says, "the next challenge is to improve the abilities of the Yangon Region Transport Authority (YRTA), which was established three years ago. In Japan, bus operators provide high-quality public transportation services, but in Yangon, they aim to provide public transportation services through the cooperation between the YRTA and private companies. Therefore, the improvement of the capacities of YRTA is essential for the autonomous development of public transportation services in Yangon in the future. Also, improvement of the Yangon Circular Railway is currently being carried out with the support of the Japanese government, and we believe that it is our mission to strengthen the connectivity between the railway and buses and improve the convenience for the passengers."

Laos: Organizational reform for the continuation of public transportation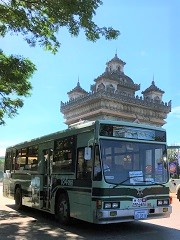 Thirty-six used city buses were donated in 2018 by the city of Kyoto, the friendship city of Vientiane, and are active in the city
In Laos' capital city of Vientiane, JICA has been implementing the "Project to Enhance the Capacity of Vientiane Capital State Bus Enterprise" since 2011. As with Yangon, the population growth was driven by urbanization, and the number of registered vehicles has rapidly increased from 200,000 units in 2005 to 700,000 units in 2015. While the use of private transportation, such as cars and motorbikes increased, the number of bus users per year has decreased from 7.6 million in 2002 to 2.85 million in 2009. JICA Expert Keisuke Takeda speaks about the necessity of continuation of the bus operations as follows:

"In Laos, there is no railway, so having public bus transportation is essential for people who do not own a car or motorbike, or for those who cannot drive, the presence of a public transport bus is essential. For this reason, we are working to reform the organization and improve the management of the Vientiane Capital State Bus Enterprise (VCSBE)."

Having provided guidance on the maintenance and management of vehicles, he is currently working to improve the working environment and services. In the past, the bus driver's salary was based on a commission system, and since there were many incidents of drivers stealing fares or changing routes, the system was changed to a fixed salary so that the VCSBE could manage the sales accurately.

In addition, with the cooperation of Eagle Bus Co., Ltd. (Saitama Prefecture), a new division was established focusing on service improvements internally within the VCSBE. The image of bus services was revamped through the introduction of bus driver uniforms and other Japanese-style services. Sensors were added to the bus to record the number of passengers and evaluated the demand for buses at each particular hour, and proper bus schedules were worked out.

Eagle Bus also inspects the trends of each route and advises VCSBE on management strategies based on the results from their experience in Japan. In this way, VCSBE's overall revenue and expenditure have improved in terms of both the working environment and operational efficiency.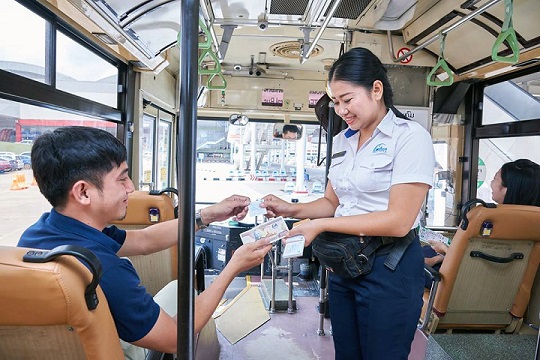 As part of the service improvements, new conductors were implemented to collect fares
Cambodia: Emerging public transport service under new authority
In Phnom Penh, the capital city of Cambodia, where the City Bus Authority (CBA) was recently established in September 2014 and thus lacking know-how and experiences in public transport service and business, JICA-supported "the Project for Improvement of Transportation Capacity of Public Bus in Phnom Penh" has been underway since January 2017. Before starting the said Project, the CBA operated only three routes with 57 buses and has been expanding its transport network and service, fully utilizing 80 buses donated by the Government of Japan. Together with buses donated by China, the network and service have by now expanded to 13 routes and 235 buses, and the number of passengers has increased from 6,000 in 2017 to 30,000 per day in 2019.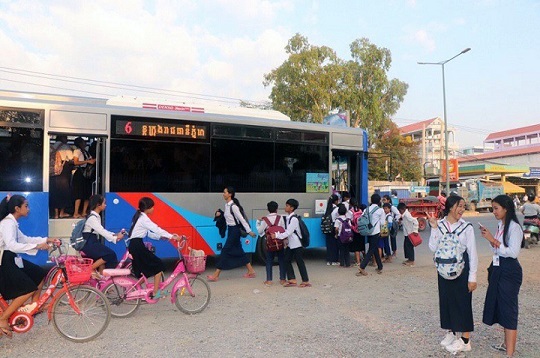 A Phnom Penh city bus donated from Japan. A widely used mode of transportation for the residents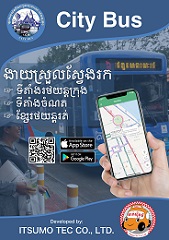 The Phnom Penh bus app helps users to understand the operation status of the buses
"Eighty percent of road traffic in Phnom Penh is motorbikes, and private passenger cars are rapidly increasing. The Phnom Penh City Administration has been actively engaged to alleviate traffic congestion and reduce the number of accidents as part of urgent and central issues. A team of JICA Experts has been supporting the CBA to improve the network and service of the bus to provide an alternative transport mode for private car and motorbike users. As part of these exercises, JICA Experts assisted the CBA to offer an app-based service to allow bus users to understand the bus location and the CBA to monitor the operation status," says Kiminari Takahashi, Chief Advisor of JICA Project. All 235 buses were equipped with GPS, and the location information of the bus is available on smartphone apps. The number of downloads rapidly exceeded 50,000 since the operation officially started in July 2019 and is becoming very popular among bus users.

In addition, the data obtained by GPS is fully utilized in collaboration with Eagle Bus, a Japanese bus operator in Saitama Prefecture, to develop scheduling of the bus, implement regular inspection and maintenance of the bus fleets, and optimize the deployment of drivers. This, therefore, contributes to the improvement of safety and management efficiency.

In February 2019, executives of the CBA visited Meitetsu Bus, a major bus operator in Aichi Prefecture and Chubu Region, and particularly in Nagoya City where bus priority measures including priority bus lanes and guideway buses were introduced for the first time in Japan. The executives of the CBA learned policies and approaches to promote public transportation and know-how to operate bus services and safety measures. The interview survey regularly conducted by the CBA implies that route expansion and further service improvements are still required by the bus users, and the JICA Experts are actively engaged in providing continuous support to the CBA.

The need for public transport networks and services, particularly those of bus operation, are emerging in other developing countries and JICA expects the lessons learned from these three different projects would be well adopted in future programs and the know-how of 100 years' of Japanese bus business experience would be continuously valid and applied in different countries.