Overview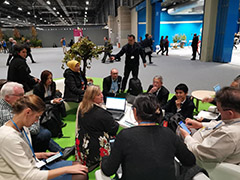 Meeting with Co-organizers before the event
Name of Meeting:COP25 Official Side-event "Avoiding loss of high-carbon soils through peatland mapping and monitoring for climate action"
Date: 2nd December, 2019
Organizer: Michael Succow Foundation for the Protection of Nature (MSF)
Co-organizer:Global Environment Center/JICA/FAO/UNEP
Location:COP25 Venu(IFEMA), Madrid, Spain

Moderators and panelists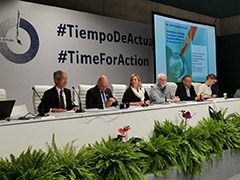 Mr. Morita, Senior Vice Director General, Global Environment Department from JICA for his opening remark
Dr. Mitsuru Osaki, Professor, Hokkaido University
Mr. Gabriel Quijandría Acosta, Vice Minister of Strategic Development of Natural Resources, Ministry of Environment, Republic of Peru
Professor Corneille EWANGO EKOKINYA, University of Kisangani, Democratic Republic of the Congo
Ms Sri Parwati Murwani Budi Susanti, Director Peatland Degradation Control,Ministry of Environment and Forestry, Republic of Indonesia
Primary objectives and outcomes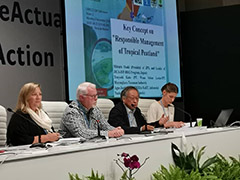 Dr. Mitsuru Osaki for his Key Note Lecture
Peatland covers only 3% of the world's land surface, but 81.7-91.9Gt of organic carbon has been accumulated in the tropical peatland, which is estimated to be more than double the total carbon accumulation in the world's forests. Organic carbon stays in the ground if moisture is stored sufficiently in peatland, but by exposure to the development of farmland use, etc., water table level decreases and the decomposition of organic carbon in the ground progresses, which result in emission of greenhouse gases (SUCH as CO2 and CH4) into the atmosphere. In addition, since the water stored in peat areas is greatly related to the water cycle in a wide area, the conservation of peatland is an important initiative from various viewpoints such as climate change countermeasures, ensuring appropriate water cycle, and ecosystem conservation. On the other hand, the actions for the conservation of these peatlands are becoming urgent for tropical peat-distributed countries such as Indonesia, Peru, Democratic Republic of the Congo and Republic of Congo, because of the development pressure like production of wood, plantation development such as oil palms, and the presence of natural resources including petrol in some of the peatlands underground.
On the first day of COP25 in Madrid, Spain, JICA together with Griefswald Mire Centre, Global Environment Center (GEC), UNEP and FAO organized the COP25 official side event for promoting proper management of peatlands.
Content of the discussions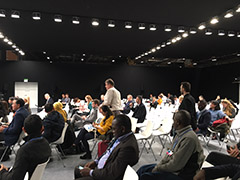 Q and A session

Venue of the COP25 side-event
The latest study results for peatland monitoring were shared with the participation of three researchers (Dr. Osaki, Dr. Hans, and Dr. Faizal) who lead the research of peatland monitoring in the world. In particular, each researcher emphasized that it is important to maintain a wet environment for the conservation of peatlands, and Dr. Osaki introduced the method of water tale level modeling.
In this side event, officials from Peru, the Democratic Republic of the Congo, and Indonesia participated in the introduction of peat land mapping, monitoring and management in each country. In particular, Peru, The Deputy Minister of Strategic Natural Resources development attended the meeting, introducing peatland mapping technology (mapping methods utilizing peatland-specific vegetation) developed through JICA's technical cooperation. The first peatland map in San Martin and Ucayari province in Peru has been released. In addition, Indonesia shared the latest information on peatland management efforts to which Japan has been contributed in a long term, and Mr. Ewango, Democratic Republic of the Congo, mentioned that the first peatland meeting was held in the DRC with JICA support.
As mentioned above, peatlands contribute not only for climate change countermeasures, but also for other ecosystem services provided by our earth like water cycle and biodiversity. Appropriate management and conservation of peatlands will become more and more important issues. JICA together with co-organizers will promote the establishment of partnerships between related organizations and research institutes, as well as related private companies, and promote sustainable peatland management initiatives.