In summer 2019, the "Disaster Risk Reduction Management Platform (DRRMP)" was officially launched by three Southeast Africa countries and four Southwest Indian Ocean countries. The DRRMP is a platform for sharing disaster prevention information and its knowledge and for exchanging ideas to solve related issues in participating countries. In addition to the representatives of each country's disaster management organization, there was participation of several development agencies. DRRMP is aligned with the new International DRM Framework (the Sendai Framework) and also with the orientations of the Programme of Action for the Implementation of the Sendai Framework, for Disaster Risk Reduction 2015-2030 in Africa. It is expected to become an "unprecedented disaster prevention network infrastructure connecting Southeast Africa and the Southwestern Indian Ocean countries."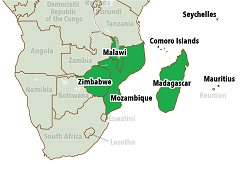 Seven countries participating in the DRRMP. The program is expected to promote the disaster prevention network as a region
The launch was prompted by the intense Cyclone Idai that struck Southeast Africa in March 2019 that affected more than 3 million people. JICA, which was looking for a rapid and sustainable way of cooperation across a wide area, and the Mauritius Government, with its expertise in disaster prevention, together with strong leadership to support the development of the region, created this DRRMP.
In Mauritius, JICA has implemented projects such as construction of meteorological radar and the "Project of Landslide Management." With the launch of the platform, the expertise will be widely utilized in neighboring countries. In May 2019, the "Project for Enhancing Meteorological Observation, Weather Forecasting and Warning Capabilities" has also been launched in Mauritius.They are establishing a system for transmitting more accurate and instantaneous weather information.

(Left) In April 2019, meteorological radar was completed in Mauritius with the support of JICA. It is also being used for disaster prevention information in neighboring countries

(Right) The expertise and know-how of the "Project of Landslide Management," which JICA has supported in Mauritius since 2012, will also be shared with neighboring countries through the DRRMP
Sharing the expertise of "disaster advanced nations" with neighboring countries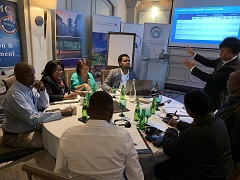 Participants from various countries exchanging ideas at the workshop (July 2019)
The "Strengthening the Disaster Risk Reduction Capacity Workshop" was held in Mauritius in July 2019 ahead of the launch of the DRRMP. A total of four Indian Ocean countries participated, including Mauritius, which is the hub of this platform, as well as Madagascar, the Comoros, and the Seychelles. And from Southeast Africa, representatives responsible for disaster management from Mozambique, Malawi, and Zimbabwe, the three countries affected by the Cyclone Idai, took part.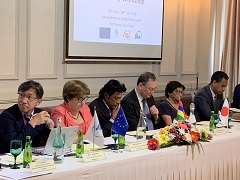 DRRMP inauguration ceremony. The workshop functioned effectively as an inaugural pre-event
In the workshop, JICA experts lectured on practical approaches to forecasting warnings using weather observation systems in addition to the landslide and flood management measures in Mauritius. Participants each shared the current situation and issues in each of their countries for each topic and discussed proposed measures.
After the opening of the workshop, a network was established to create contact lists and mailing lists, as well as to share materials on the cloud as a base to facilitate easy communication and consultation. They plan to discuss how to provide disaster relief support through the DRRMP on a regular basis from 2020 onwards.
Being neighbors, working together makes sense
Mr. James Chiusiwa, Director of Disaster Risk Reduction at Department of Disaster Management Affairs, Malawi
Participants were witness to expectations for learning at the workshop and the Disaster Prevention Platform.

"In Malawi, there is limited expertise on landslide management and little progress in countermeasures, but since landslides can cause great damage in our country, we reaffirmed this is an important theme," said Mr. James Chiusiwa, Director of Disaster Risk Reduction at Department of Disaster Management Affairs of Malawi. "We want to strengthen management in our home country by effectively utilizing the network, including knowledge and expertise gained in this workshop. In the future, we hope to use the DRRMP as a place for sharing information to discuss countermeasures for local issues as well as to consider strengthening disaster countermeasures at home."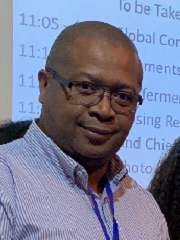 Mr. Faly Aritiana Fabien, Project Coordinator, Madagascar National Disaster Management Authority
Also, Mr. Faly Aritiana Fabien, Project Coordinator, Madagascar National Disaster Management Authority, said, "The seminar of experts was, of course, informative, but it was very helpful to get to understand the challenges and initiatives of the neighboring countries where the environment is similar. In the future, in addition to regular meetings, we would like to promote the exchange of opinions on issues through teleconferences and other means. As the secretariat of the DRRMP, we would like to continue working with JICA to maximize the value of this workshop."
Overcoming disasters together
Kensuke Ichikawa (currently Mauritius Ministry of Public Infrastructure and Land Transport advisor, Minister advisor and former JICA Expert), who participated in this regional disaster prevention workshop, speaks about the significance of this workshop where countries from Southeast Africa came together.

"Many countries that have participated in this Disaster Prevention Platform still lack expertise in disaster preparedness and do not have a method to predict disasters quickly. For that reason, it is important first to understand what areas of disaster response each country is skilled in, or what kind of experts are in which countries, by sharing expertise with neighboring countries. We believe that sharing knowledge about disasters and raising the possibility of overcoming them together with the neighboring countries is the most important outcome of this platform."

Good results of the DRRMP are expected to minimize damage in the future by working together as one and complementing the expertise of each country in this region.