The One Village One Product (OVOP) is a project that aims to create local specialty products to promote regional development. It began in Oita Prefecture around 1980 and spread throughout Japan. JICA has been supporting this project in several developing countries, and the branch in the Central Asian country of Kyrgyzstan has grown to be one of the biggest. It has grown so much, in fact, that it was designated a national project in December, 2022.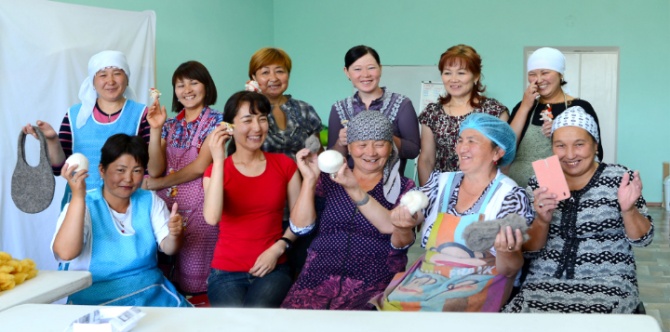 Operating "One Village One Product" as a profitable business
The small Central Asian country of Kyrgyzstan has been producing quality specialty items in sophisticated packaging that stimulate the appetites of consumers. These include products like 100-percent pomegranate juice that is rich in polyphenols, flavorful smoked sausages made of fresh horse meat, and beauty oil pressed from the fruit of the sea-buckthorn, considered to be a "superfood."

Kyrgyzstan gained independence following the dissolution of the Soviet Union in 1991, but its economy stagnated due to a series of political upheavals. Many left the country to work abroad, decimating the population of local communities and increasing poverty levels. The One Village One Product Project was launched in 2006 to help revitalize the region and rebuild communities by creating specialty products using ingredients unique to the mountainous country.

The region of Issyk-Kul Oblast in northeastern Kyrgyzstan was chosen as the location for the first trial. It was an area abundant in resources that could be commercialized, such as wool and wild fruits. Even so, it was not a simple task, recalls JICA Expert Haraguchi Akihisa, who has served as the project's chief advisor for many years. "When I took this position back in 2009, I have to admit the situation was quite dire," he says. Along with the development of new products, he began from scratch to create a system that would allow sustainable operations as a business. To strengthen the people's economic independence, he created a feedback loop framework with an association of producers involved in the OVOP project, an organization to connect producers with consumers, and a committee to certify products as a brand.

The project is meant to create high quality products that even the most discerning consumers will want. To achieve this, "OVOP+1," a local public union, played an important role by connecting producers and consumers. The OVOP+1 was responsible for everything from developing products based on needs assessment surveys and production technology, to operating stores selling the products, and securing distribution networks. A system was established for introducing high-quality products to the market by splitting production and management responsibilities and requiring all products to pass a quality and hygiene screening by the brand committee.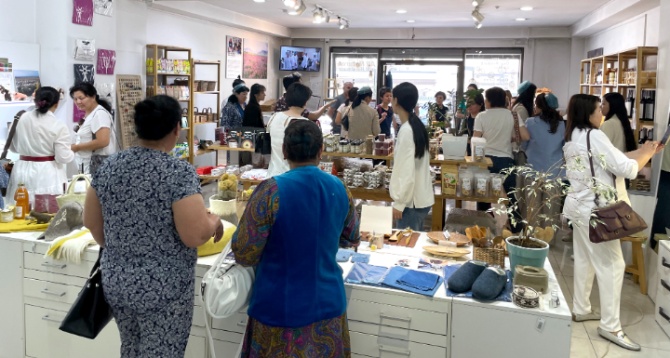 An OVOP Center (top) in the capital city of Bishkek, crowded with shoppers for products from all over the country that have been launched through the One Village One Product project.
Popular products: 100-percent pomegranate juice and sea-buckthorn juice with honey (above left), and horse-meat sausage (above right), awarded the Kyrgyzstan Traditional Product Award by the National Brand Committee in 2022.

Haraguchi learned wool making and natural dyeing in an effort to produce high-quality products unique to the Issyk-Kul region, and shared knowledge with the local Japan Overseas Cooperation Volunteers. The resulting product was a series of felt animals made with local wool. In 2010, the Japanese retailer MUJI, which sells household and consumer goods, was looking for products that would support the manufacturing industry of developing countries. The felt animals from Kyrgyzstan were presented to and selected by MUJI. The series of donkeys, sheep, and other animal figures, as well as some small bags, passed MUJI's stringent product standards and have become a popular item in their stores. As the technical and quality-control skills of the producers greatly improved, this became the OVOP project's first big success.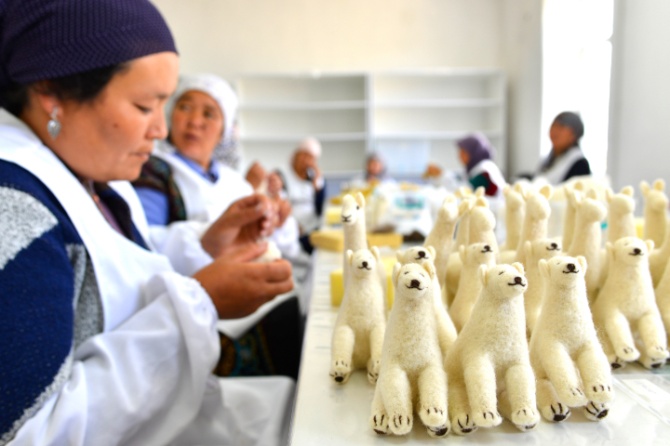 Felt polar bears are among the animals made by hand with high-quality, seamless one-piece molding. Donkeys, sheep, snow leopards, and yaks are also included in the series.
Brand expansion and further progress
Phase 1 of the project was the development of the capabilities of the residents in charge of product creation and the establishment of a location to harness their abilities. In 2012, the project progressed to Phase 2, aiming to reinforce the structure and organization. Product offerings expanded to include honey, dried fruits, and other items, providing customers with a wider range of options, and increasing sales. The OVOP+1 system was improved to effectively transmit clients' requests to manufacturers and incorporate them in the products, as well as to oversee delivery schedules.

"We initiated Phase 3 in 2017 in response to requests from other regions to expand our work to all of Kyrgyzstan," says Haraguchi. "Currently, we are operating in six of Kyrgyzstan's seven oblasts, and each oblast has its own brand committee." An annual meeting of the National Brand Committee is held to build up momentum for the project. The top products from each oblast are presented and awards are given to the best in each category.

Nargiza Erkinbaeva joined OVOP+1 in 2009 and now works as the CEO.
She says that at first, the producers didn't understand the significance of creating products and maintaining quality control to meet consumer demands. "But we were able to establish a relationship of trust with them despite repeated conflicts," she says. "Gradually we were able to consistently produce high-quality products."

Currently, there are over 2000 products that line the shelves of OVOP shops nationwide in Kyrgyzstan. The products are well received—not only by the affluent residents of the capital city of Bishkek, but also by international customers. In December 2022, in recognition of the results of the project's 15-year-effort to revitalize the region, OVOP was designated as a national project. Further aggressive expansion is expected with the backing of the Kyrgyz government.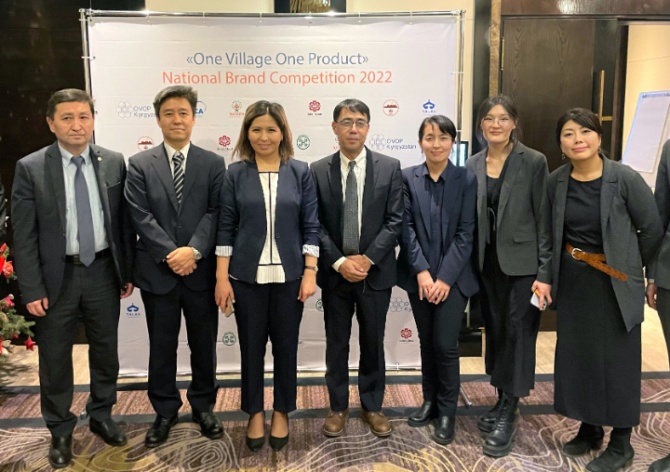 At the National Brand Committee meeting in December 2022. It was held for the first time in three years, after being postponed as a result of the COVID-19 pandemic. Haraguchi and CEO of "OVOP+1" Nargiza (fourth and fifth from left) pose for a photo with Kyrgyz Deputy Minister of Economy (third from left).
The empowerment of women brought significant changes
This project has also brought significant change at the community level. If the product quality is high, OVOP+1 buys the producer's entire stock, which increases motivation. The majority of producers are women, and the ability to earn money has contributed to their empowerment. A sense of community has also grown through their collaborative work.

The voices of the producers involved in the project also illustrate the remarkable changes made through the project. "In the past, women in the village were not able to go out without permission as our primary responsibility was to care for our families," says Mairamkul, from the village of Tasma. "But now, we can do so without hesitation when we have a meeting."

Eralieva Gulzat, from the village of Ak-Bulun, speaks of her sense of responsibility and fulfillment at accomplishing a challenging task. "It brings me joy to know that a craft made in my village is being sold all over the world."

OVOP+1 CEO Nargiza says, "My goal is to create opportunities for all young people to live fulfilling lives without having to seek employment abroad."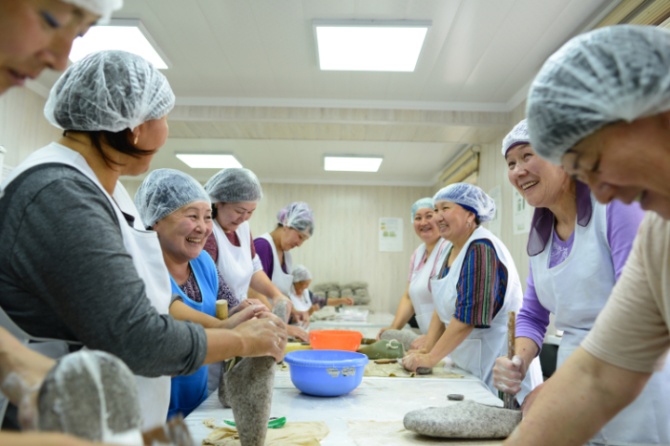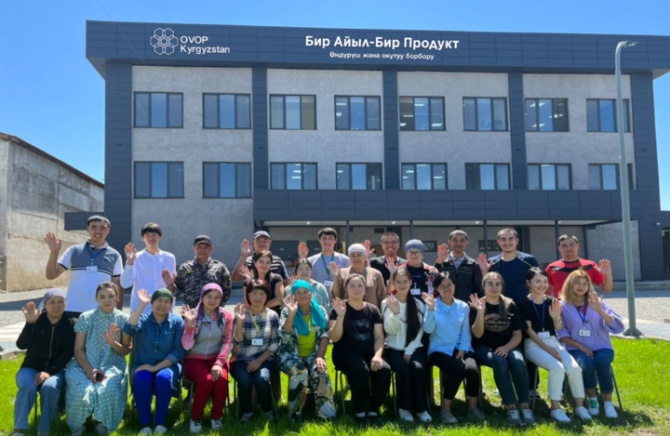 (Above) A manufacturing site full of smiles. Some workers say that the production activity contributes to their physical and mental well-being. (Below) In October 2022, a manufacturing facility opened in Karakol, the capital of Issyk-Kul Oblast, as part of a business expansion plan. The OVOP+1 office was relocated here, and serves as a training center as well as final inspection station for the project's products.
Further development is projected in Phase 4, which is set to begin in April of 2023. "We will spread the lessons learned in Kyrgyzstan to neighboring countries," says JICA's Haraguchi. "We have already taken concrete steps in Kazakhstan, such as identifying products with high potential, and we have received interest from Uzbekistan, Tajikistan, and other countries. Our goal is to ensure that the OVOP in Kyrgyzstan, which has grown so much, will be able to operate sustainably even after JICA's involvement ends." Nargiza of OVOP+1 agrees. It may not be long before the OVOP model honed in Kyrgyzstan bears fruit in developing countries in other parts of the world.