The Project on Capacity Development in Urban Development Sector in Mongolia aims to develop capacities to implement and manage urban development by improving the policy and legal framework for urban development in Mongolia. It also reaches its goal by enhancing the capacity of organizations and individuals responsible for the urban sector.
The counterparts of this project are the Ministry of Road, Transport, Construction and Urban Development (MRTCUD) and the Ulaanbaatar City government. To achieve project goals and to develop the capacities of government officials and personnel, the active participation of the counterparts in all project tasks and activities, as well as their sense of ownership of the project and its outputs and outcomes will be pursued in the process.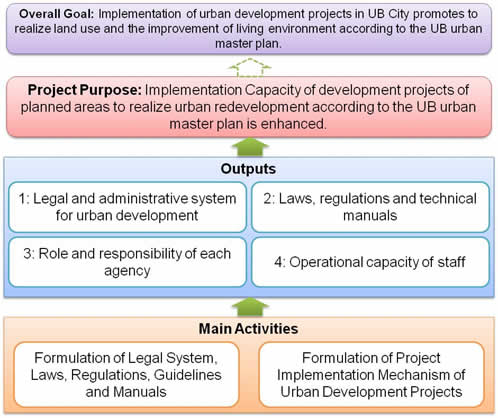 Project Outline
Approaches
Collaboration with Joint Coordination Committee (JCC) and Task Forces (Legal and Urban Development) with their ownerships
Advising, verifying and monitoring of three (3) types of urban development projects implemented by MRTCUD and Ulaanbaatar City: (a) Urban Redevelopment of Ger Areas (from Ger to Apartments), (b) Land Readjustment of Ger Area, and (c) Reconstruction of Old Apartments.
Capacity development by conducting seminars, workshops, study tours, etc.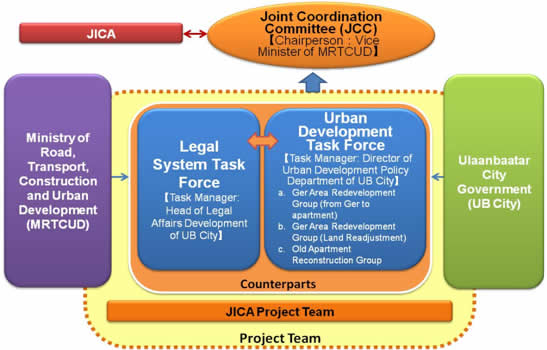 Project Implementation Structure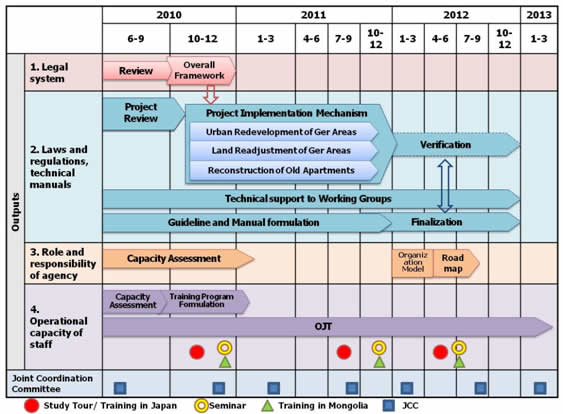 Project Schedule
JICA Project Office
Room #406, Ministry of Road, Transport, Construction and Urban Development (MRTCUD), Builder's Square 3, Ulaanbaatar 211238, Mongolia
Tel/Fax: 976-11-70110411