JICA President Tanaka met with ILO Director-General Houngbo
2023.05.12
JICA President Tanaka Akihiko met with International Labor Organization (ILO) Director-General Gilbert F. Houngbo at JICA Headquarters on April 24.
At the opening of the meeting, President Tanaka expressed JICA's hope to further deepen cooperation with the ILO in areas related to the field of Business and Human Rights, such as the protection of the human rights of migrant workers and the elimination of child labor, based on the Memorandum of Cooperation (MOC) that was signed in January 2023 with the ILO Office in Japan.
In response, Director-General Houngbo stated that efforts in these areas are extremely important in the current global situation and that he would like to promote them in cooperation with JICA.
The two parties confirmed that they will continue to explore possibilities for collaboration in various areas, especially in the field of Business and Human Rights, utilizing partnerships such as the Japan Platform for Migrant Workers towards Responsible and Inclusive Society (JP-MIRAI) and the Platform for Sustainable Cocoa in Developing Countries.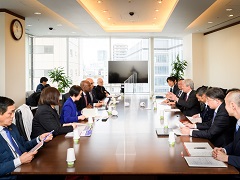 Scene of the meeting ©ILO/LIFE.14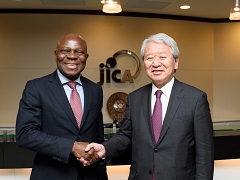 President Tanaka (right) and Director-General Houngbo ©ILO/LIFE.14