JICA President Tanaka Held Talks with UNHCR Grandi
2023.11.13
On October 19, JICA President Tanaka Akihiko met with United Nations High Commissioner for Refugees (UNHCR) Filippo Grandi at JICA Headquarters.
During the meeting, President Tanaka and High Commissioner Grandi shared their recognition of the importance of strengthening partnerships between humanitarian and development actors, and of addressing the issues surrounding refugees and forcibly displaced persons around the world, which are increasing in both volume and complexity.
They also confirmed that they will further strengthen their collaboration in preparation for the Second Global Refugee Forum, to be held in Geneva, Switzerland in December 2023. In addition, both sides agreed to continue exploring the potential for expanding cooperation in the Middle East, South Asia, and Africa to maximize the positive impact of said cooperation through the Humanitarian-Development-Peace (HDP) nexus.
JICA will continue to enhance its partnership with the UNHCR and support refugees through its development cooperation.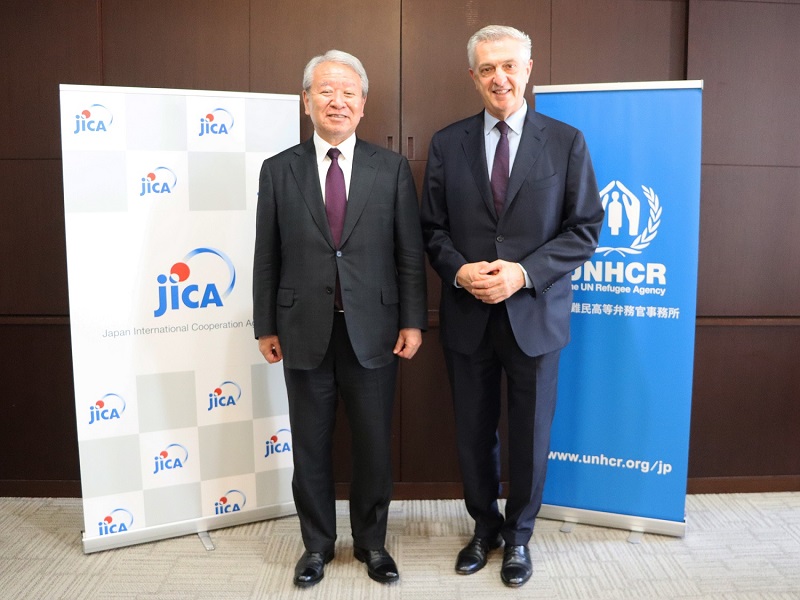 President Tanaka (left) and High Commissioner Grandi