Signing of Japanese ODA Loan Agreement with Thailand: Contributing to COVID-19 crisis response in Thailand through providing budget support
2022.05.06
On May 3, the Japan International Cooperation Agency (JICA) signed a loan agreement with the Government of the Kingdom of Thailand in Bangkok to provide a Japanese ODA loan of up to 50,000 million yen for COVID-19 Crisis Response Emergency Support Loan.
This project aims to strengthen healthcare system including measures toward post-COVID-19 and to promote the support to the poor, the vulnerable and small and medium-sized enterprises impacted by COVID-19 by/through providing financial assistance. This project will contribute to the achievement of SDGs Goals 1 (no poverty), 3 (good health and well-being), and 10 (reduced inequalities).
Details for the project are provided below.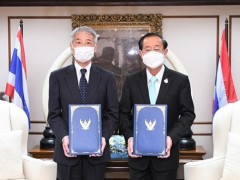 Signing ceremony
1. Terms and Amount of Loan
Project title
Amount
(million yen)
Annual interest rate (%)
Repayment
period
(years)
Grace
period
(years)
Procurement
Project
Consulting services
COVID-19 Crisis Response Emergency Support Loan
50,000
0.01
N/A
15
4
General untied
2. Executing Agency
Public Debt Management Office, Ministry of Finance
Address: Rama VI Road, Phayathai, Bangkok 10400, Thailand
Tel: +66-2-265-8050
Fax: +66-2-273-9147
3. Planned Implementation Schedule
1 . Completion of project: October 2022 – when disbursement is completed
2 . Issuing of letters of invitation for consulting services (including project management): No hiring of consultants is planned for this program.
3 . Tender announcement of initial procurement packages for international competitive bidding on project construction: No work in conjunction with bidding is planned for this program.