Signing of Grant Agreement with Thailand: Contributing to resilient health systems through improved border measures
2022.05.20
On May 19, the Japan International Cooperation Agency (JICA) signed a grant agreement with the Government of the Kingdom of Thailand in Bangkok, to provide grant aid of up to 500 million yen for the Programme for COVID-19 Crisis Response Emergency Support.
The programme aims to increase the effectiveness of the quarantine and medical systems currently in place against COVID-19 by improving border measures. This will be accomplished through such means as providing medical equipment related to the testing, diagnostic, and therapeutic systems used when people enter the country. The program will contribute to the building of a resilient health system in order to prepare for post-COVID situations, as well as to the achievement of SDGs Goal 3 (Good health and well-being).
Details for the programme are provided below.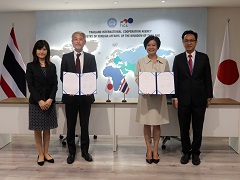 signing ceremony
[Basic project information]
Country
The Kingdom of Thailand
Project title
The Programme for COVID-19 Crisis Response Emergency Support.
Planned implementation period
24 months
Executing agency
Ministry of Public Health
Thailand International Cooperation Agency, Ministry of Foreign Affairs
Target region, facilities
Countrywide
Specific project details (provisional)
① Equipment procurement
Quarantine and testing equipment (Negative pressure tent for isolation, Portable negative pressure chamber, PCR machine, Quantitative antigen test equipment), Diagnostic and Therapeutic equipment (Portable Digital X-ray, Respirator)
② Consulting services
Procurement supervision, Technical guidance for the equipment