Signing of Grant Agreement with UNICEF for Afghanistan: Contributing to stronger infectious diseases prevention through UNICEF partnership
2022.05.20
On May 20, the Japan International Cooperation Agency (JICA) signed a grant agreement with the United Nations Children's Fund (UNICEF) to provide grant aid of up to 1,203 million yen for the Project for Infectious Diseases Prevention for Children in Afghanistan.
Due to food and medical shortages as well as a lack of funding, people of Afghanistan are currently facing unprecedented economic and humanitarian crises, exacerbated by poverty. Thus, support from the international community is essential.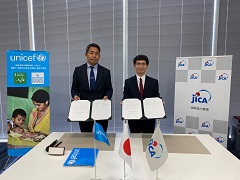 Signing ceremony
Part of JICA's humanitarian assistance to Afghanistan is to implement this project, which will support the procurement of vaccines for women and children for routine immunization and polio vaccination campaigns across the country. It will also support quality management of vaccines while raising awareness in order to promote steady vaccination activities, thereby mitigating vaccine-preventable diseases in Afghanistan. This project also contributes to SDGs (Sustainable Development Goals) Goal 3 (Good health and well-being).
Diseases that can be prevented by vaccinations have not been fully mitigated for various reasons, including security threats, poor access to healthcare facilities, and lack of information about vaccinations. Under such circumstances, Afghanistan has some of the highest neonatal, infant and maternal mortality rates of any country in the world. Afghanistan also remains as one of only two polio-endemic countries* in the world. Afghanistan aims to eradicate polio as soon as possible, since this is a disease which can be prevented with vaccinations, through efforts that include a campaign focused on polio vaccinations in conjunction with regular vaccinations for other infectious diseases. The international community supports the procurement of vaccines, building up medical capabilities, and stimulating awareness in communities so that a routine immunization program in Afghanistan can be implemented efficiently. With reports of the wild poliovirus reduced to just four in 2021, Afghanistan has seen remarkable progress in eliminating polio.
This project should enable the vaccination of 1.41 million infants under the age of one against polio, tuberculosis and measles, as well as protecting 630,000 infants from hepatitis B, and 3.13 million women of childbearing age from tetanus and diphtheria. These efforts are expected to contribute to improved health among children and women of childbearing age throughout Afghanistan. In addition, the project will support Afghanistan in vaccinating 10 million children under five against polio, advancing efforts to eradicate polio internationally.
*As of May 20, 2022. The other country is Pakistan.
Details for the project are provided below.
[Basic project information]
Country
Afghanistan
Project title
The Project for Infectious Diseases Prevention for Children
Planned implementation period
12 months
Executing agency
UNICEF
Target region, facilities
Entire Afghanistan
Specific project details (provisional)
① Equipment procurement
Procurement and provision of vaccines, syringes and safety boxes for routine immunization against tuberculosis, polio, measles, hepatitis B, tetanus, and diphtheria.
Procurement and provision of vaccines for polio vaccination campaigns
② Guidance in managing the facilities
Boosting awareness for routine immunization and technical support including quality management of vaccines