Special Report: Revisiting Human Security in Today's Context - Working Together to Protect Lives Around the World
To combat the threat posed by the novel coronavirus (COVID-19), JICA has put forth the message of "Protecting people's lives around the world." Here we introduce the efforts being taken in Vietnam, where JICA, through its comprehensive approach to prevention, precaution, and treatment, is building a capable and resilient system to deal with infectious diseases throughout the country.
Expand patient safety initiatives to regional hospitals as well!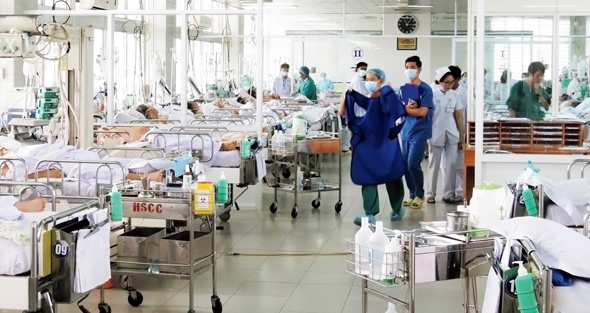 Measures to promote patient safety and Infection Prevention and Control (IPC) in Cho Ray Hospital
This photo shows the intensive care unit at Cho Ray Hospital. At this hospital, at least one person responsible for patient safety and infection control is assigned to each department. This initiative is spreading to provincial hospitals as well.
Vietnam's COVID-19 response--one of the best in the world
COVID-19 has been spreading around the world from the start of 2020. However, the number of people infected, the number of severe cases, and the number of deaths differ greatly depending on the measures taken in each country.
Vietnam has been cited as one of the countries that has successfully contained the spread of COVID-19. Strict isolation right from when patients began appearing, plus prompt responses through official apps and websites, meant that, as of the end of July, there were zero deaths.
JICA has been providing support to Vietnam in the health sector since 1966. As a result of accumulated experiences, a system is being built that three key elements working in a cycle. These elements are: "prevention," such as measures in hospitals to prevent infections; "precaution," such as strengthening epidemiological research and laboratory testing system, plus measures based on testing results; and "treatment" that can be securely taken as a result of the hospitals improvement and human resources development.
The three hospitals that JICA has worked particularly closely with, Bach Mai Hospital (Hanoi), Hue Central Hospital (Hue), and Cho Ray Hospital (Ho Chi Minh), are the core facilities delivering health services in each region. JICA's support focused on improving their medical equipment, capacity building in these hospitals as well as establishing a human resource development system for provincial hospitals. These hospitals are liaising with the National Institute of Hygiene and Epidemiology (NIHE), which is responsible for disease surveillance, and are playing an important role in disease control. In 2003, when Vietnam defeated the SARS (Severe Acute Respiratory Syndrome) outbreak, the technical guidance on healthcare-associated infection control by Bach Mai Hospital helped prevent and control the spread of the disease.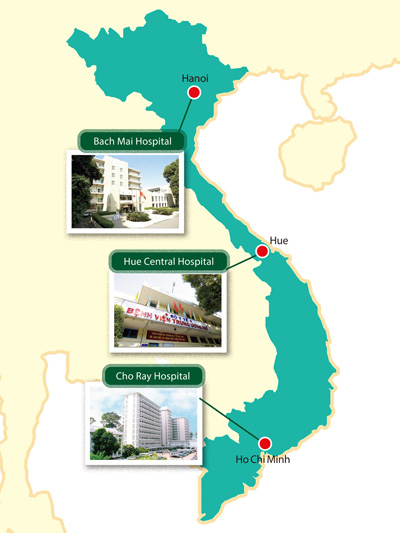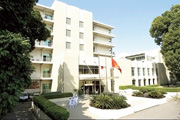 Hanoi
Bach Mai Hospital
Hue
Hue Central Hospital
Ho Chi Minh
Cho Ray Hospital
Towards a resilient society against infectious diseases
Vietnam's first COVID-19 patient was admitted to Cho Ray Hospital in January 2020. Prior to that, there had been an outbreak of influenza within the hospital. With JICA's collaboration, the hospital was able to control infection when using ventilators, and build a team to ensure thorough measures to prevent nosocomial infection. The hospital was able to use this experience to prevent hospital-acquired infections, to provide appropriate treatment to the COVID-19 patients, and to continue treating other patients.
In addition, thanks to the well-established system to provide guidance from central to provincial and lower hospitals in the south of Vietnam, the experience and knowledge at Cho Ray Hospitals was quickly shared with the provincial and the county-level hospitals. Cho Ray Hospital is playing a leading role in COVID-19 measures in this region. When the number of severe cases increased in July, doctors from Cho Ray Hospital went to Da Nang to support medical teams in the central region.
In addition to hospitals, the National Institute of Hygiene and Epidemiology (NIHE), which JICA had been working with for many years, has also played an important role. It carried out PCR tests from the earliest stages of the pandemic, and shared its results promptly with the three core hospitals and other medical institutions. NIHE provided trainings to provincial laboratories, and PCR testing was conducted quickly at provincial laboratories and in coordination with the government to contain the cluster of COVID-19. JICA's long years of collaboration have reached rural areas via the core hospitals and the national research institute, thereby strengthening Vietnam's ability to cope with infection nationwide.
To combat the threat posed by this rapidly-spreading disease, a system is needed whereby medical institutions around the country can use networks based on "prevention," "precaution," and "treatment" to respond appropriately to changes in the situation. With these three components functioning in harmony, the society will be resilient against emerging infectious diseases and be able to protect Human Security.
Raise the quality of medical services by improving our infection control capacity.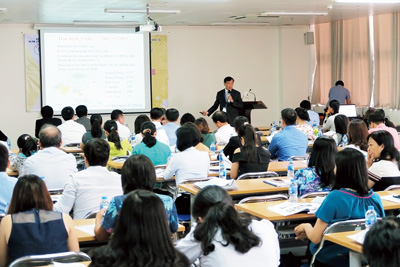 A seminar on infection prevention and control and patient safety at Cho Ray Hospital targeted at management-level physicians and nurses at provincial hospitals in the south of Vietnam.
Raise the quality of medical services by improving our infection control capacity.
We're committed to continuous improvements!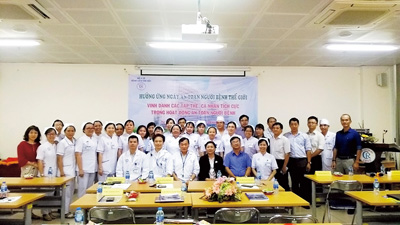 Hospital wards and staff who contributed to patient safety at Cho Ray Hospital received awards to coincide with World Patient Safety Day on September 17.
COLUMN
JICA's Determination
"Protect Lives Around the World"
How will JICA take on the challenge to overcome the threat of COVID-19? A video message of President KITAOKA Shinichi is now available on YouTube. JICA has worked in about 150 countries to date to achieve Human Security, including efforts in Vietnam. In the video, President KITAOKA expresses his determination to "protect people's lives around the world" and talks about the concrete measures being taken.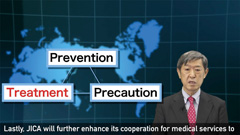 A scene from the message video.
Scan the code for details.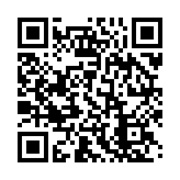 Message from JICA President KITAOKA "JICA's Challenge: Protecting people's lives around the world"