LatAm Investment Forum
Day:2023.09.12
event |
Outilne
Event Name: LatAm Investment Forum
Date: September 12, 2023
Location: Tokyo, Japan

Main Participants
Embassy of Brazil, Embassy of Chile, Japanese companies, Partia, JICA (Private Sector Investment Finance Department)
Contents
On September 12, 2023, "LatAm Investment Forum", hosted by Patria, a Latin American private equity firm, was held in Tokyo. As there are few large-scale forums in Japan related to the Latin American market, many Japanese companies participated in the forum. At the forum, the potential for economic growth and the investment environment in the Latin American region were introduced by embassies in Tokyo, etc., providing a valuable opportunity for investment in the Latin American region.
JICA has made a number of overseas investment and financing projects in Latin America. Recently, JICA has invested in Dr. Consulta S.A. in Brazil with Kamaroopin (a growth equity fund under Patria, the sponsor of this forum) to improve access to healthcare for low- and middle-income Brazilians. This impact investment was mentioned by Prime Minister Kishida at the G7 Health Follow-up Side Event on September 21st and is expected to expand Universal Health Coverage (UHC) in Brazil.
Signing of Investment Agreement for Brazil's "Project to Improve Access to Healthcare" (Overseas Investment and Loan): AI-based Impact investment in a health tech company that provides primary care to low- and middle-income people through efficient | News & Media - JICA
September 21, 2023 G7 Health Follow-up Side Event: Prime Minister Kishida's Speech | Prime Minister's Speech, Press Conference, etc. | Prime Minister's Official Residence Website (kantei.go.jp)
Mr. Yasumura, Director of Private Sector Investment Finance Division, of JICA , who participated in this forum as a speaker, introduced the above projects such as impact investment. He also stated that the investment environment is well-developed and that JICA will actively implement projects to solve development issues such as climate change, agriculture, and healthcare in the Latin American region, which has a close relationship with Japan.
The Latin American region is a huge growth market with a vast land area, countries with universal values such as freedom and democracy, and a concentration of mineral and energy resources and food supplies. For many years, JICA has been providing a variety of cooperation activities such as development for stable and resilient societies and economies in the region, resolution of global issues such as disaster prevention, and collaboration with the Japanese community.
JICA will leverage the relationship of trust it has cultivated through its past cooperation with the Latin American region to co-create with the private sector through further deepening partnerships for the region's sustainable development.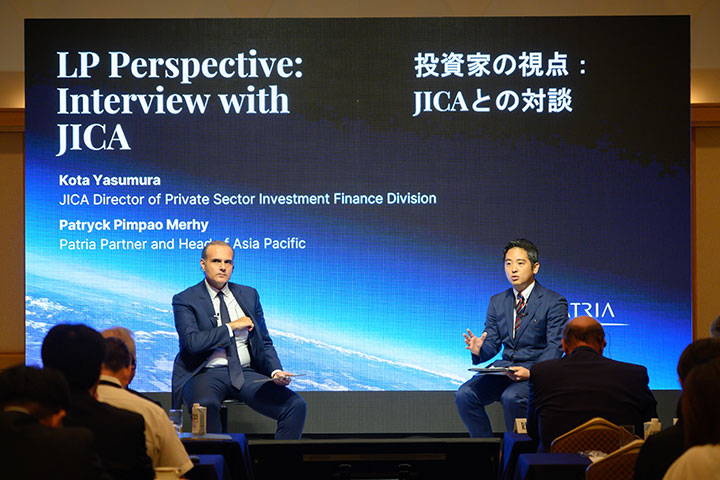 Interview session (Yasumura is on the right)