Japanese Technology to Support Demining Efforts in Ukraine
2023.04.04
In January 2023, the Japanese government, through JICA, invited eight Ukrainian demining experts to Cambodia for training in the use of the latest Japanese landmine detectors. We take a look at JICA's cooperation in addressing the urgent needs of Ukrainian citizens, which aims to remove landmines and unexploded ordnances (UXOs) in Ukraine as quickly and safely as possible toward the reconstruction of the Ukrainian citizens' everyday lives.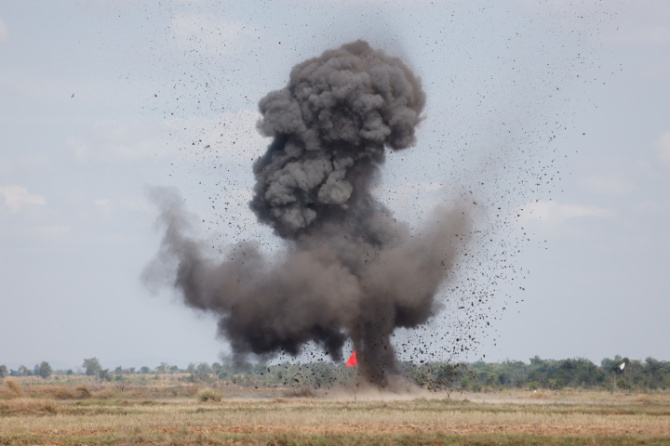 Explosives in stuffed animals, and 5 million people at risk
It has been over a year since the Russian invasion of Ukraine started. In places where Russian troops have retreated, mines, rockets, and other explosive devices have been left behind. These explosives are found both indoors and outdoors, and sometimes even in stuffed animals left in people's homes. The risk areas now cover 30 percent of the country's land mass, where approximately 5 million people live. In order for people to live safely and securely, it is important to remove every explosive device.
The State Emergency Service of Ukraine (SESU) is responsible for clearing landmines and UXOs in Ukraine, but the task has been difficult and extremely time consuming. Metal detectors react to all kinds of metals, so it is necessary to excavate every piece of metal that is detected in order to determine if it is a mine. "Hazardous materials need to be removed and the risk of people being exposed to them needs to be eliminated. We need a lot of humanitarian assistance," says Arsenii Diadchenko, Leading Expert of the State Emergency Service of Ukraine (SESU).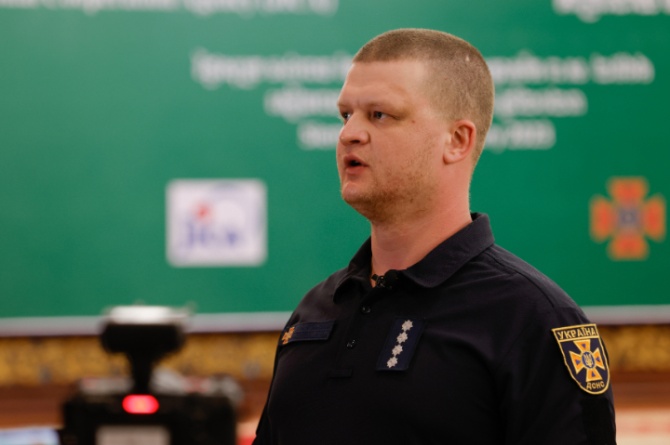 Arsenii Diadchenko of the State Emergency Service of Ukraine (SESU), being interviewed.
Why Cambodia, and how ALIS technology works
Diadchenko was one of the eight members of SESU who were invited by Japan to train at the facilities of the Cambodian Mine Action Centre (CMAC). Decades of conflict in the country left large areas of Cambodia littered with mines and UXOs, which have had a devastating impact on its people. Over the more than 20 years that have passed since the end of the country's conflict, JICA has cooperated with Cambodia in mine action by providing equipment and technical assistance. JICA has also focused on strengthening the organizational capacity of CMAC and developing human resources in order to improve efficiency of operations.
The SESU team was trained in the use of ALIS, a Japanese-made mine detector that combines a metal detector and ground-penetrating radar to speed up the process. The radar of ALIS, which stands for "Advanced Landmine Imagine System," creates images of objects found by the metal detector. The shape of the objects can be seen on the monitor of the attached terminal, so that identification can be made quickly and efficiently.
Professor Sato Motoyuki of Tohoku University, the developer of ALIS, traveled to Cambodia to instruct the SESU demining experts in the new technology. "ALIS can detect landmines much faster and more efficiently than conventional metal detectors, which should help with the pressing task of keeping the Ukrainian people safe," he said.
The ALIS unit consists of CMAC staff who are proficient in ALIS technology and who served as instructors for this training along with Professor Sato. "I have directly supervised only about ten people so far, but we have developed a system of training that trains people down to about the second or third generation," he said.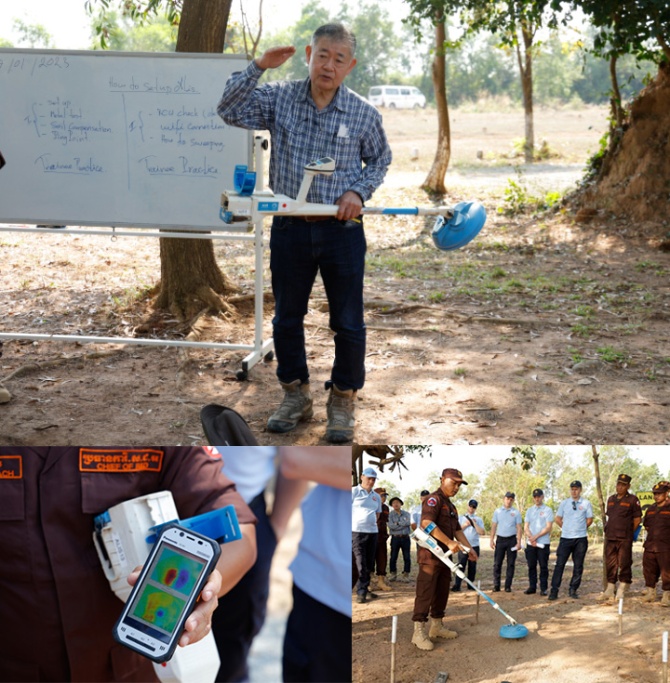 (Top) At the Cambodian training site, Prof. Sato explains how to operate the hand-held ALIS device. The size is similar to conventional metal detectors and, at approximately 3 kg, it weighs about the same. (Bottom left) The shape of the detected underground object can be confirmed on the terminal screen.(Bottom right) CMAC staff also served as instructors during the program.
SESU experts impressed at the specialized training
Professor Sato spoke about the difficulties of training demining experts using the new technology. He said, "There is a knack to operating ALIS," and the more familiar the SESU experts were with the operation of pre-existing metal detectors, the more puzzled they were by the workings of ALIS. By repeating operations over and over again, however, they were able to get the hang of it. "They were pleased when they were able to successfully manipulate the machine and see the round shape of the mines properly on the screen," said Professor Sato. By the last day of the equipment training, SESU members seemed relaxed and had clearly formed a bond with all the project participants.
SESU's Diadchenko spoke highly of the program. "The training was excellent," he said. "I will pass on the skills I have acquired this time to all my colleagues who are working on mine clearance in Ukraine. Explaining how ALIS works is not easy, but training in the field should help people understand it better."
Professor Sato said that many landmines and other explosives are left behind in Ukraine, especially in urban areas, and building debris can contain improvised explosive devices. "Conventional metal detectors don't function well because they react to rebar and other materials in the concrete," he said. "We expect ALIS to contribute to the rapid removal of mines in such situations."
(Left) SESU members in training (Right) SESU members look at the screen of Professor Sato's terminal where the image of a detected underground object is displayed.
Training continues in Poland
In order to further improve ALIS operating techniques, additional training will take place in Poland. Marek Sadowski, from Warsaw's Anti-Terrorist Squad of the Polish National Police, participated as an observer in the training in Cambodia. "In order to provide training to as many Ukrainian people as possible, it will be helpful to have the training in neighboring Poland," he said. "We in Poland want to be prepared to provide training in a calm and safe manner."
Clearing landmines and UXOs in Ukraine is an issue that will require decades-long commitment and determination. Continued support is needed to remove every explosive in the vast area so that people can live safely and securely. This training program, which involves a partnership between Japan, Cambodia, and Poland, will continue. Ukraine will always seek cooperation in mine action, utilizing the know-how, technical capabilities, and networks with other countries that Japan has cultivated, in order to rebuild a resilient country from the damage of the war.