Their Majesties the Emperor and Empress of Japan Met with Returned Japan Overseas Cooperation Volunteers
2023.11.02
On September 26, representatives of the Japan Overseas Cooperation Volunteers (JOCV) who had returned to Japan had the honor of talking informally with Their Majesties the Emperor and Empress of Japan at the Imperial Palace. The returnees reported on their activities in the foreign countries where they had served.
The volunteers who returned to Japan at this time had been impacted by the global spread of COVID-19 since January 2020. Although they had their postings postponed or had been forced to return home temporarily, they were able to overcome the obstacles presented by the pandemic and complete their duties by engaging in online support activities and capacity building during their waiting period in Japan. They were then able to apply these skills when they returned to their dispatch countries.
On this occasion, eight JOCV back from being dispatched to countries in Asia, Oceania, Africa, and Latin America met with Their Majesties the Emperor and Empress of Japan. Before this informal conversation, they met with JICA President Tanaka Akihiko at JICA Headquarters in Chiyoda-ku, Tokyo.
From left in the front row are Ms. Matsuyama; Ms. Fukasawa; JICA President Tanaka; Ms. Murakami; and Ms. Onizuka.
In the back row from left are Mr. Otsuka, Chief Secretary of the Office of the President; Mr. Yamazaki; Mr. Sonoo; Mr. Ozaki; Mr. Chiba; and Mr. Tachibana, Director General of JOCV.

Note: Before the first JOCV members departed in 1965, and also upon their return in 1969, they had the honor of receiving an audience with Their Imperial Highnesses Crown Prince and Princess (today, Their Majesties the Emperor and Empress ). Ever since, returning JOCV have had continued opportunities to meet for informal conversations with Their Majesties—originally with the current Their Majesties the Emperor and Empress Emeritus , and since 2019, with the current Their Majesties the Emperor and Empress.
Touring Schools and Working to Revitalize Japanese Language Education
Matsuyama Satomi (dispatched to Sri Lanka, category: Japanese language education, age 43, from Fukushima Prefecture) contributed to strengthening the teaching skills of local Japanese language teachers and improving the quality of classes in the central city of Colombo by visiting several secondary schools and teaching Japanese language classes there. While building relationships of trust with students and local teachers, she also worked to revitalize Japanese language education with the goal of strengthening the network among teachers. She did so by providing operational support for Japanese language teachers' associations, conducting classes at local schools, and holding seminars.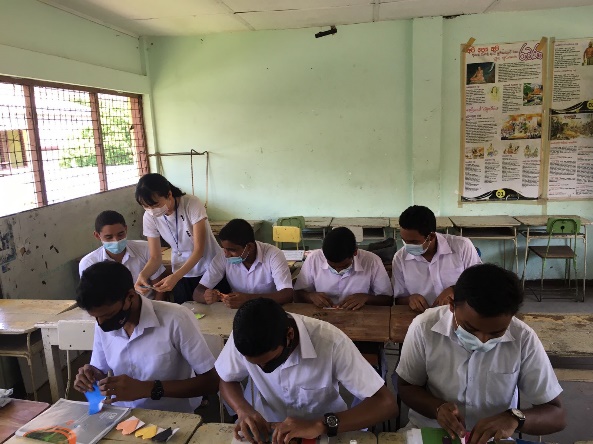 An origami class held at a visited school.
Aiming to Improve the Quality of Classes, from Developing the Environment to Implementing Physical Education Classes
Yamazaki Teppei (dispatched to Cambodia, category: physical education, age 29, from Chiba Prefecture) was assigned to a middle school and a high school in the capital city of Phnom Penh as a physical education teacher. He and four of his fellow local teachers built a deep trusting relationship while working together on such activities as improving the environment, making physical education equipment, and reading the curriculum guidelines . He also provided guidance to participating physical education teachers from other schools by conducting relay classes at a class research workshop held by a Japanese NPO and improved the quality of physical education classes.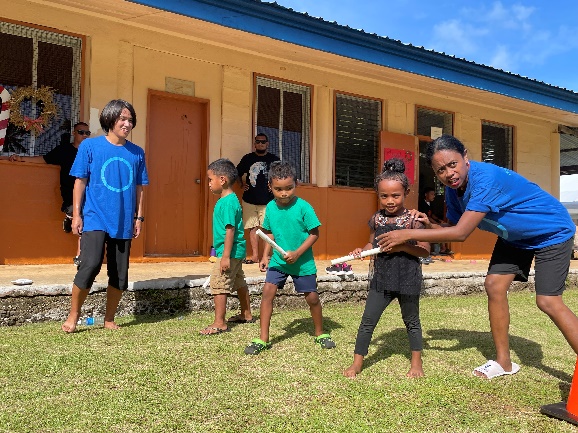 Conducting a workshop on physical education classes for teachers.
Suggesting New Methods and Contributing to the Improvement of Children's Motivation to Learn
Sonoo Yohei (dispatched to Palau, category: primary school education, age 35, from Tokushima Prefecture) worked with local teachers to improve the quality of mathematics and physical education at a primary school with about 30 students in a rural area. In mathematics education, he contributed to improving students' motivation to learn by introducing new methods such as conducting calculation drills and connecting with other elementary schools online to hold calculation skill competitions. In physical education, he introduced lessons based on Japanese sports festivals and track and field meets, etc. He also organized online exchanges with Japanese primary schools.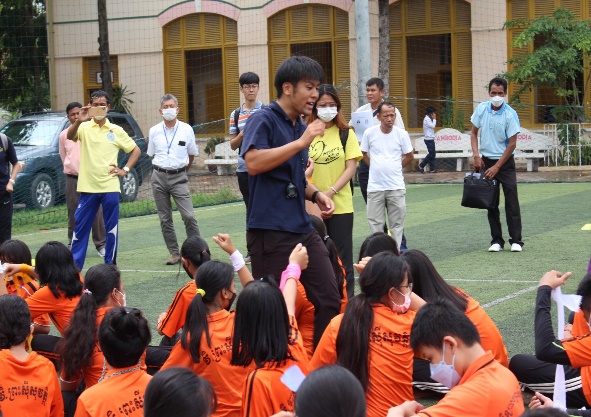 A sports festival organized in cooperation with local teachers that included a relay .
Establishing a QIT Team as a Catalyst to Changing the Mindset of Nurses
Fukasawa Chinami (dispatched to Kenya, category: nursing, age 41, from Ehime Prefecture) was dispatched to Kapkatet District Hospital, a rural public hospital, where she worked on 5S-KAIZEN activities within the hospital. She established a quality improvement team (QIT) and conducted a survey of nurses on current conditions, raised awareness about the need for improvement (kaizen), and provided guidance. The local nurses were very busy and, initially, were not receptive to the kaizen activities. Nevertheless, the establishment of a QIT team and the team's kaizen efforts led to the establishment of an internal framework within the hospital aimed at improving medical services.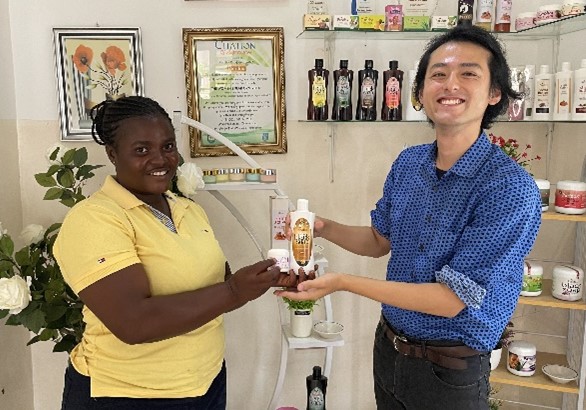 Using a checklist with QIT members and making rounds through the hospital.
Identifying and Improving Issues and Engaging in Marketing from the Perspective of the Consumer
Ozaki Hayato (dispatched to Ghana, category: community development, age 29, from Niigata Prefecture) was dispatched to a cosmetics company, where he worked on activities such as improving productivity and product quality. He proposed and implemented many operational improvements, including streamlining flow lines within the plant, improving management precision through the visualization of material inventories, and reducing the workload of the product delivery drivers. He also worked on marketing activities such as researching product characteristics and surveying consumer needs for soaps and shampoos, which are the main products of the company to which he was assigned.
Providing local distributors with products from the company to which he was assigned.
Improving the Lives of Residents Through the Popularization of Improved Cooking Stoves
Murakami Mizuki (dispatched to Madagascar, category: community development, age 30, from Tokyo) conducted activities based in Antanetibe Mahazaza, a rural village about 40 km from the capital. She worked with city hall officials and local NGOs to popularize improved clay cooking stoves and peat, with the aim of improving the livelihoods and increasing the incomes of rural residents. She provided training on improved nutrition and household budgeting, as well as support for women's groups in enhancing their incomes through sewing and cooking. She also contributed to the improvement of people's lives by popularizing the use of improved cooking stoves to more than 300 residents.
Training session about improved cooking stoves for residents.
Contributing to Human Resource Development for Agricultural Producers and Engaging in a Wide Range of Activities
Chiba Kazuto (dispatched to the Dominican Republic, category: community development, age 41, from Miyagi Prefecture) was assigned to a branch of the Ministry of Agriculture in Peralta, Azua, where he conducted numerous workshops for agricultural producers from the perspective of human resource development. To this end, he incorporated the Project Cycle Management (PCM) methods, livelihood improvement approaches, and Good Agricultural Practices. Placing importance on relationships with the local community as well as with people of Japanese descent living in the area, he also organized music festivals and exchange events for locals to experience Japanese culture by drawing on his many years of experience in the music industry.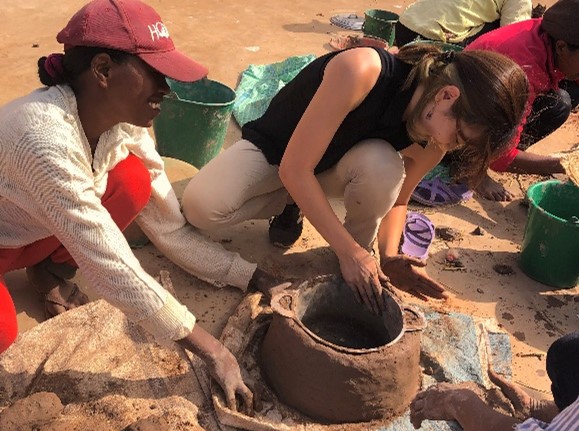 A hands-on Japanese cultural exchange event that was held at the local harvest festival in his assigned location.
Adding Vibrancy to Life and Aiming to Invigorate Mind and Body
Onizuka Keiko (dispatched to Peru, category: elderly care, age 37, from Nagasaki Prefecture) was assigned to the Peruvian Nikkei Association to work with elderly Nikkei people (those of Japanese descent) with the aim of helping them maintain their health. The goal of her work was "to add vibrancy to life and to invigorate the functions of mind and body through various programs," and she planned and implemented day service programs including exercises such as those aimed at preventing the decline of physical and mental functions and muscle weakness. She also organized study sessions for family members and caregivers of the elderly to improve their knowledge about caregiving and health maintenance.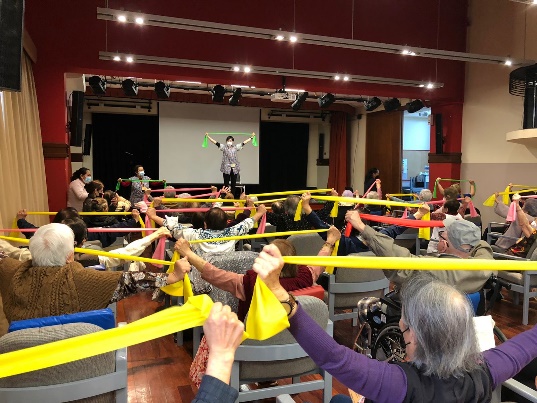 Conducting calisthenics for elderly Nikkei people to prevent muscle weakness.
After the informal conversation, one participant remarked that "the atmosphere of the meeting with Their Majesties was very friendly, and we were able to talk with Their Majesties in a relaxed and open atmosphere," while another said, "We were impressed and encouraged by the seriousness with which Their Majesties listened to our reports, asked us many questions, and showed great interest in the activities of JOCV returnees."