"Innovation" is expected to be a major theme at the Seventh Tokyo International Conference on African Development (TICAD7) being held in Yokohama from August 28. Nigeria, with the largest population on the African continent, is looking at the potential of "STI (Science, Technology and Innovation)" development cooperation. The Nigerian government and private sector conduct "Ideathon" sessions on STI, where excellent ideas are refined into peak condition through repeated exposure in the same way as a marathon. JICA is supporting this initiative for the improvement of public services.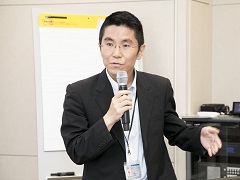 Watanabe speaking about the situation in Africa at the Tokyo Ideathon (June 2018)
For "TOWARD TICAD7: 'Africa & Me'" Part 9, we spoke to Hideki Watanabe of JICA's STI team about the potential of Nigerian start-ups' participation in the Ideathon, and the support STI can provide going forward.
STI Solutions for Society's Issues
At the Ideathon in the Nigerian capital Abuja in May 2019. Representatives from government and business in open conversations on Nigeria's water issues.
"Nigeria has Africa's biggest GDP, and a population of approximately 185 million people. However, it also has the world's largest population living in poverty, numbering 87 million people (according to CNN, 2018). Without settling Nigeria's issues, there can be no solution to the issues of Africa as a whole. Recently Nigeria's private sector is steaming ahead, including the first ever African unicorn* JUMIA (known as Africa's Amazon), which was listed at the New York Stock Exchange in April 2019, and Kobo360 (a trucking version of Uber). Nigeria has been exceptionally active in private business, especially the start-ups," Watanabe describes the current situation in Nigeria.
* Non-listed venture companies with a valuation of over 1 billion dollars, established less than 10 years.

JICA and the Nigerian government co-hosted the "Nigeria Open Innovation Challenge" Ideathon in Nigeria in May 2019, in an aim to adopt STI by start-ups to improve existing public services. It was JICA's first attempt at public-private partnership of the kind. Watanabe devised the structure and theme of the Ideathon in consultation with JICA Nigeria office, and gathered ideas from the private sector on the theme of "how to improve payment collection for water use" which is an issue identified in water utility operation.

"We decided to focus on "water sector" this time. This sector has a lot of potential for digital technology, but not much has been done yet. For example, there are cases where water meters have been left uninstalled. There is a mountain of issues. If this Ideathon goes well, it's possible that the charging system could be even more advanced than Japan's is right now."

Involving the private sector to spur innovation
As a "forum to involve the private sector," Watanabe started thinking along the lines of the Ideathon around 2016. Looking back on his experience working in Ethiopia, which also has a population of over 100 million, he was looking for a powerful tool in international cooperation.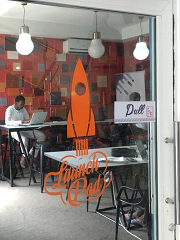 Co-working space in Abuja, Nigeria. "Tech hubs", where technical experts and entrepreneurs can share information and work together, have been set up in 55 locations in Nigeria.
However, at the time, "there was some sense that 'this isn't what JICA should be doing'," he recalls. But things started to change shortly after, when the Rwanda ICT (Information Communications Technology) was set up. It attracted a lot of attention, and the private sector looked towards TICAD and innovation.
"In Africa, new businesses are being created speedily in areas such as electronic payments, online shopping, and transport of blood supplies by drone. This is stimulating the economy as well as helping to solve real society issues. At the same time, Africa needs these digital technologies to leapfrog into the developing world, at a much faster speed than that of the advanced nations. To achieve the SDGs, we need both speed and scale, and I strongly believe that STI can provide it."

STI is the hope for the start-up businesses creating various unique services. I am convinced that Ideathon, which has the door open to the private sector, is a valuable generator of business chances and social innovation.

"JICA still needs to think about new ways to provide support. At present, roughly 12 million young people enter the workforce every year (according to the AfDB 2015 survey), and of these, more than one-third are unemployed (ILO 2019 report). There is high expectation that innovation from STI will generate the employment needed to reduce poverty."

Africa as an engine of world growth - can JICA produce another M-PESA?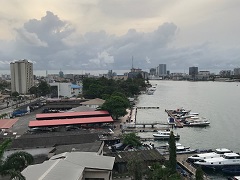 Lagos, Nigeria's former capital, is one of the world's most dynamic cities. Skyscrapers line Lagos Bay, while it is also Africa's largest water-born slum. (Picture taken in August 2018)
Watanabe believes strongly in "STI and Africa," because there is enormous potential hidden in the region.
"By 2050, Nigeria is expected to be the world's third most populous nation, after India and China. It may be hard to sense from distant Japan, but the world is increasingly looking towards Nigeria."

Rapid pace of start-ups in "Yabacon Valley" (Nigeria's Silicon Valley), while its "Noriwood" movie business wins fans throughout Africa.

"There is no question that in the near future, Nigeria, and Africa, will be an engine for growth for the world. STI will support this growth. I am certain that in the "Seventh Tokyo International Conference on African Development (TICAD7)" being held this month in Yokohama, innovation created by STI will attract even more attention than the one in Nairobi three years ago. Kenya's mobile payments service M-PESA, a well-known project supported by UK's DFID (The Department for International Development), was an innovation that changed African society. I believe that JICA can support producing "M-PESA 2"; and in the future, we will look back on TICAD7 as a "turning point." I am very pleased to play a supporting role in generating the ideas and the information," said Watanabe on the eve of TICAD7.

Profile
Hideki Watanabe
Watanabe joined JICA in 2004. After working at the Ethiopia office in 2009-2011, he came to JICA Research Institute as a researcher, and moved to the Africa Department. He currently has overall responsibility for Nigeria, and STI core audit. He was born in Tokyo.