JICA initiated its first Open Innovation Survey; a catalyst to bring together the government Ministries, Departments and Agencies (MDAs) JICA supports together with local start-ups. The MDAs are to present their challenges to the start-ups that can pitch business solutions to them. The surveys are conducted in Nigeria, Kenya, Uganda and Rwanda.
On 15th May, JICA Nigeria hosted the first Ideathon Workshop as part of the Open Innovation Survey in Abuja, Nigeria. Start-ups around the country were invited through an open call to proffer disruptive innovative ideas that will solve some challenges of FCT Water Board (FCTWB); the public utility in charge of providing water to residents of the FCT.
Through JICA's cooperation with FCTWB from 2014 to 2018, recurring challenges in meter reading, billing, and revenue collection continued to affect revenue generation of the board. Consequently, these challenges, together with how to improve the quality of service of FCTWB were presented as challenges to the 22 participating start-ups to pitch their solutions.
After a half day of brainstorming and receiving feedback from FCTWB, the start-ups presented their innovations to a panel of reviewers. The solutions were challenging but innovative to the water sector and possibly hold the solutions to challenges of FCTWB. The top rated solutions of the start-ups were identified for the next round of the challenge holding in July 2019. This next round is expected to select the excellent and most effective idea and to be supported by JICA toward a proof-of-concept.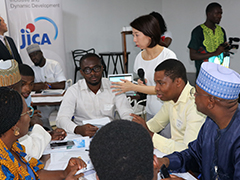 JICA Mission on Open Innovation facilitating the discussions amongst workshop participants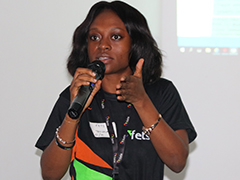 A participant from one of the start-ups pitching their business solutions to the review panel